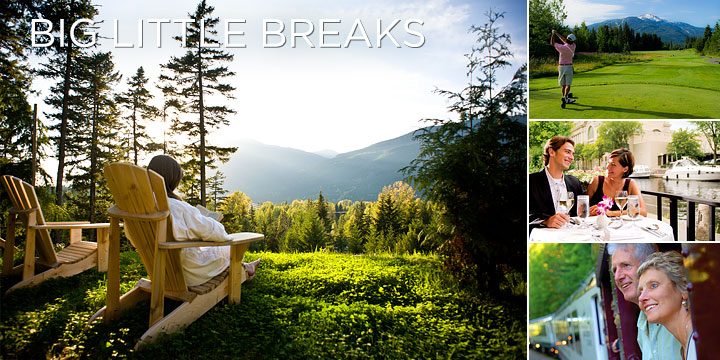 Let's take a look at the different routes below. Think how many days you have and what you would like to see...
Big Little Breaks
Every now and then, a break from the everyday life is essential. It's a chance for you to reconnect with loved ones and discover a new city and culture. From the rugged west coast, to alpine meadows of the Canadian Rockies, to the metropolitan city of Toronto, these big little Canadian train trip packages are designed to stimulate you during your time away from home.
Fresh Tracks Canada is flexible with creating custom trips to fit any timeframe and budget. Start planning that getaway today!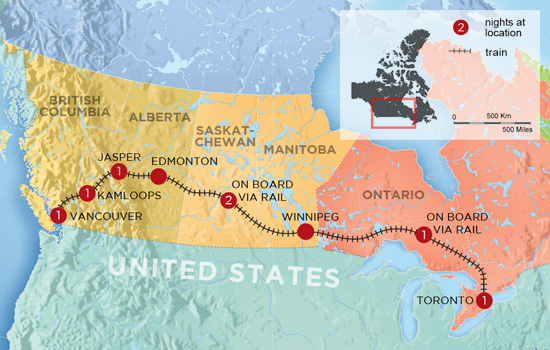 Travel by train from the metropolis of Toronto to the serenity of the Rockies. An across Canada by train trip fills your desire for the energy of big cities, as well as the peacefulness of nature. As you travel across the country by train, you see firsthand how diverse the spectacular Canadian scenery really is.
VIEW TRIP DETAILS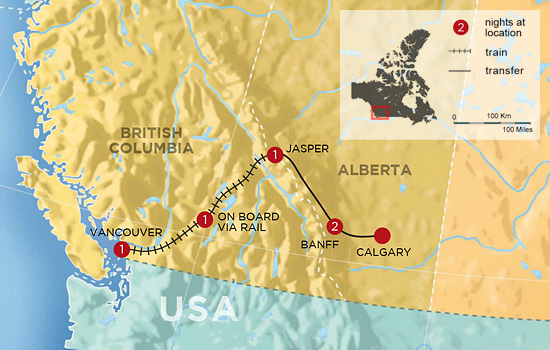 This Canada train trip highlights the best of Western Canada in 5 days. From the laid back vibe of Vancouver to the adventure of an overnight rail trip through the Rockies and the quaint mountain towns of Jasper and Banff - this trip has it all. And, you'll never forget the Athabasca Glacier - or your journey along the world- famous Icefields... more
VIEW TRIP DETAILS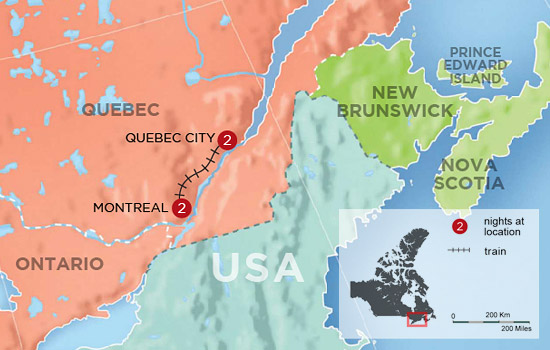 Combine modern and diverse Montreal, historic Quebec City with travel on Canadian trains to create this 5-day trip showcasing French Canada's two largest cities. Spend two nights in Montreal and explore the city on a half-day Montreal sightseeing tour before boarding Via Rail's The Corridor train to Quebec City. Stroll the cobblestone streets... more
VIEW TRIP DETAILS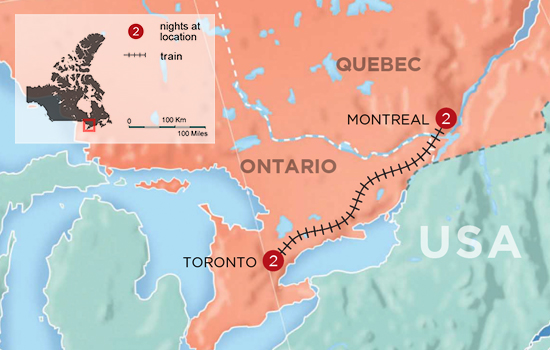 With this great Ontario and Quebec vacation package you can enjoy all the Niagara region, Toronto and Montreal have offer. Experience Niagara Falls and the historic town of Niagara-on-the-Lake, celebrated for its beautiful 19th century architecture and country charm. Then continue to Toronto, for a taste of its colorful and trendy neighborhoods.... more
VIEW TRIP DETAILS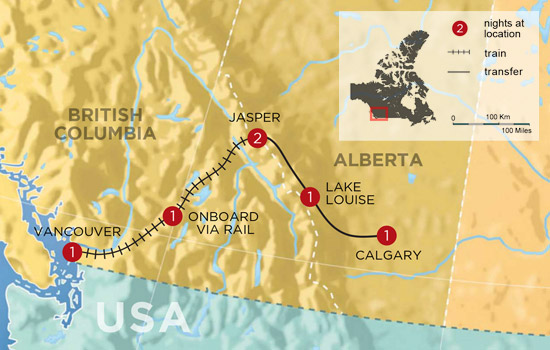 On this Canada vacation by train, you'll be whisked to the heart of the frozen Canadian Rocky mountains. Enjoy an ice walk in beautiful Maligne canyon, and winter fun at Lake Louise - then reminisce at the end of the day in world class mountain lodging. An indulgent or adventurous winter experience awaits you in the Canadian Rockies!
VIEW TRIP DETAILS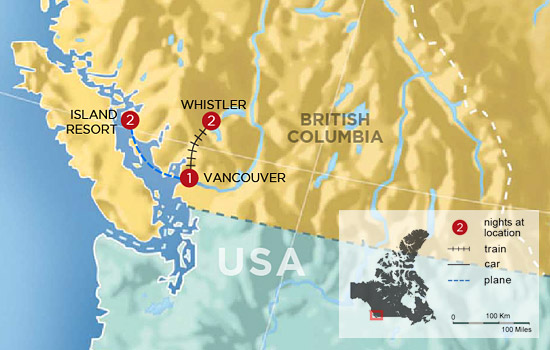 Whistler's Mountains and the magical Sunshine coast of British Columbia are the perfect places to escape from the stresses of every day life. On this Canadian vacation feel the thrill of Whistler's lively atmosphere, before soaring in a float plane or helicopter to one of two amazing coastal retreats. Here wildlife is plenty, adventure awaits,... more
VIEW TRIP DETAILS
We'd love to build you a customized trip to suit your exact needs.
Please give us a call or click below to get started.
Customize