The Canadian Rockies Voyage by Train
5

days from $1,367 per person
The 'Bear' Essentials
This Canada train trip highlights the best of Western Canada in 5 days. From the laid back vibe of Vancouver to the adventure of an overnight rail trip through the Rockies and the quaint mountain towns of Jasper and Banff - this trip has it all. And, you'll never forget the Athabasca Glacier - or your journey along the world- famous Icefields Parkway.
What we love about this trip

• Overnight Rockies train to Jasper - wilderness far from the roads
• Sightseeing trip along the Icefields Parkway - mountains, forests, and stunning views
• The best of the wild Rockies in Banff & Jasper National Parks - photographic opportunities of forest, wildlife and glaciers
• 3 nights in the Canadian Rockies

Itinerary

Please note, like most of our Canada rail packages & tours, this railway vacation can be customized to your needs - just ask one of our local experts when you call.

Eastbound itinerary shown. Westbound follows the same itinerary in reverse.

Day 1 – Arrive in Vancouver and Board the Canadian train


Frequently voted amongst the worlds most livable and beautiful cities in the world, Vancouver is surrounded by mountains and ocean. Meet a driver at the airport, to take you to the train station for an evening departure.

Depending on your time of arrival, you can relax and dine al fresco or get out and explore on foot or with a guided bicycle tour of Vancouver (ask your vacation advisor for more details).



The 'Canadian' is Canada's most famous train, the route links Vancouver and Jasper using original steel rail cars from the 1950's. Vancouver to Jasper is the most spectacular stretch of the whole journey. The train crosses the arable land of the Fraser Valley, travels northeast through the British Columbia interior, passing the Lac Du Bois and Wells Grey Provincial parks before ascending the Canadian Rockies and arriving in Jasper National Park the following day.

Day 2 – Heart of the Canadian Rockies – Arrive in Jasper
Arrive this afternoon into the town of Jasper and spend the rest of the afternoon exploring. Jasper is a quaint Rockies mountain town surrounded by the pristine wilderness of Jasper National Park - a UNESCO world heritage site.

Day 3 – The Icefields Parkway – Jasper to Banff
A small group tour travels along the spine of the Rockies, known as the Icefields Parkway is recognized as one of the world's most beautiful roads in Canada. Learn about its geology as you walk across the Athabasca Glacier - later in the afternoon your Canada train trip brings you to stunningly beautiful Lake Louise before reaching Banff for your overnight stay.

Day 4 – Banff – Rocky Mountain Natural Beauty
It is worth the early start this morning to explore local landmarks and historic sites and learn about wildlife habitats with a small group and guide. Banff is the perfect town in the Canadian Rockies to play golf, try a fly-fishing lesson, relax in a spa, or explore the mountains on horseback, so don't hesitate to ask for additional activities to be booked.

Day 5 - Depart from Calgary


Much too soon you leave the fresh air and colourful sights of the Canadian Rockies as your Canada train trip comes to an end, as you make your way to Calgary Airport from Banff.

What's Included

Here are just a few of the things to look forward to on this trip...

Customize this trip a little... or a lot

Think of this itinerary as just a starting point. Work with us to personalize this trip by adding some amazing side trips & activities, like...
Accommodation Options
Below you'll find examples of this trip's accommodation options. Please call us for the full list or advice on how to customize your experience.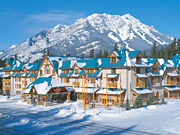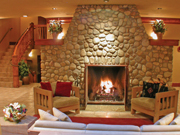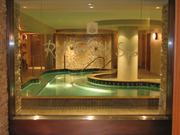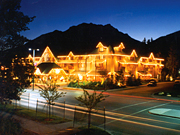 The Banff Caribou Lodge And Spa
An example of our Comfort accommodations
Enjoy the ambiance of a beautiful Banff mountain lodge. After a day of skiing, the Banff Caribou Lodge and Spa is an oasis of relaxation. Comfortable rooms with mountain inspired décor beckon. Relax your tired muscles in the jetted whirlpool or for the ultimate treat, visit the Red Earth Spa for an après-ski massage. One of Canada's most popular steak houses is located on site; visit for lunch, dinner or an evening appetizer and cocktail. Located just 10 minutes from downtown Banff, the lodge is perfectly located near the mountains and the village.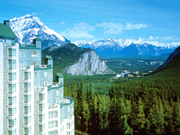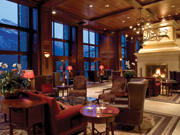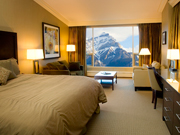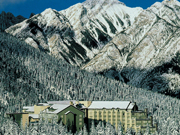 Rimrock Resort
An example of our Superior accommodations
The Rimrock Resort is one of Fresh Tracks favourite hotels! The hotel is built into the side of a mountain, when you enter the main lobby, you are actually on the 7th floor, and the views from the pamorama of windows over the Bow Valley are simply stunning. The hotel has an upscale yet understated feel, and the service is impeccable.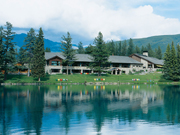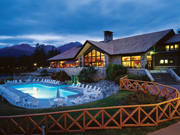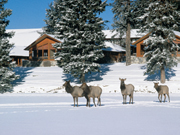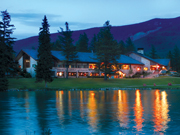 Fairmont Jasper Park Lodge
An example of our Deluxe Lodge accommodations
The Fairmont Jasper Park Lodge is it's own Canadian wilderness resort. The property is made up of many buildings with different room types throughout the resort. Relax by the lake, or enjoy a round of golf on the beautiful Stanley Thompson Golf Course, or enjoy a game of ice hockey on the lodge's pond. Be sure to keep your eyes open for Elk as they walk past your building!
Prices & Dates
Trip Start Dates - 2013

From April 2 to October 29

Eastbound starting in Vancouver:

Tuesdays, Fridays & Sundays


Westbound starting in Calgary:

Tuesdays, Thursdays & Saturdays


Canadian train vacation price guide

• Prices are per person
• Double means two people occupying a room
• Single, triple and child rates are available

Comfort Hotels
USD$
Double
Apr 02 - Apr 26, 2013
1,367
Apr 27 - May 26, 2013
1,749
May 28 - Jun 25, 2013
2,012
Jun 27 - Sep 29, 2013
2,446
Oct 01 - Oct 15, 2013
2,165
Oct 17 - Oct 29, 2013
1,802
Superior Hotels
USD$
Double
Apr 02 - Apr 26, 2013
1,544
Apr 27 - May 26, 2013
1,945
May 28 - Jun 25, 2013
2,101
Jun 27 - Sep 29, 2013
2,531
Oct 01 - Oct 15, 2013
2,342
Oct 17 - Oct 29, 2013
1,979
Deluxe Hotels
USD$
Double
Apr 02 - Apr 26, 2013
1,814
Apr 27 - May 26, 2013
2,481
May 28 - Jun 25, 2013
2,890
Jun 27 - Sep 29, 2013
3,328
Oct 01 - Oct 15, 2013
2,658
Oct 17 - Oct 29, 2013
2,294
Deluxe Plus Hotels
USD$
Double
Apr 02 - Apr 26, 2013
2,880
Apr 27 - May 26, 2013
3,323
May 28 - Jun 25, 2013
4,461
Jun 27 - Sep 29, 2013
4,925
Oct 01 - Oct 15, 2013
4,174
Oct 17 - Oct 29, 2013
3,809
What Clients Say
"I had a wonderful trip, in fact it was the trip of a lifetime. Everyone looked after me so well and Daviss organization was faultless."
Mary Swift (UK)
Why Book With Us?
What makes booking with Fresh Tracks Canada different?
Our commitment to making your trip an unforgettable experience
20 years of experience in travel
Intimate knowledge of Canada
Attention to every detail
Caring and creative people
Like This Trip?
Share it with your friends...
Subscribe
Start your lifelong love affair with Canada. Sign up for our monthly newsletter and get more of everything there is to love about this great country into your inbox.