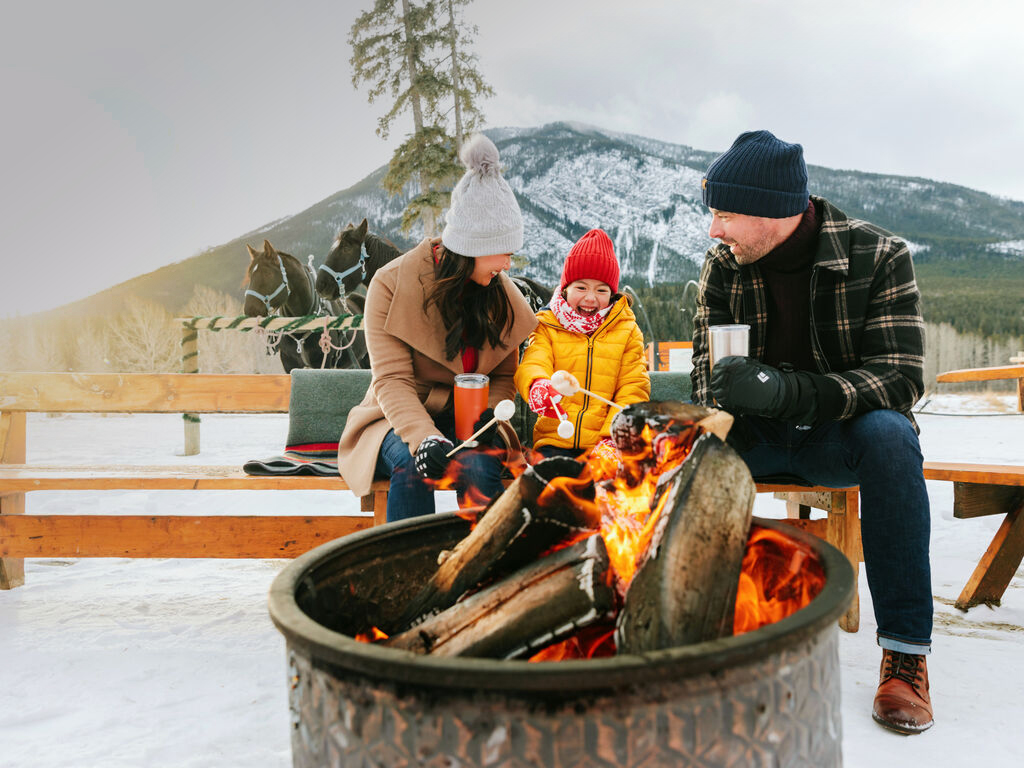 starting fromUS $1,540per person
Choose your own activities and experiences to make the most of your trip.
Have all the details of your trip organized and arranged for you.
Winter Adventures in Banff National Park
Discover a winter paradise in the Canadian Rockies on a week-long independent vacation. Everything is hassle-free, including transport, the best Banff hotels, and unique activities in Banff and Lake Louise. Choose from a multitude of winter activities such as dogsledding, snowshoeing, ice canyon walks, snow tubing, and more.
What you'll love about this trip
Shared family time in spectacular Banff National Park

Exploring Banff's restaurants and shops

Iconic winter activities catered to your family

A visit to magical Lake Louise
Common Questions
Is this an escorted tour?

Our vacations are not typically 'escorted.' We combine the best of both worlds – the reassurance of seamless connections, customer service support, and scheduled activities, plus the freedom of 'independent' travel. You are not tied into a specific group, or a rigid daily itinerary. This allows us to personalize your trip to suit your occasion, interests, and timeframe.

Can this trip be made shorter or longer?

Absolutely! We personalize all our clients' trips to fit their exact tastes and needs. You can add days at locations that you'd like to explore and spend more time at. Or leave out certain areas that don't interest you as much. Discuss your travel goals with our Canadian Insiders who make sure that your trip fits your needs and budget.

Can I customize this trip?

Your trip can be as rich as you'd like, and completely arranged around your interests and needs. The greatest benefit of working with us is our local knowledge. You can get your FREE personalized trip plan and decide what you'd like to see and do.

If your trip is a special occasion, we'll make sure it is unforgettable. Or if you're traveling with a group, we'll take care of the logistics so you can share time together stress-free.

Where am I staying on this trip?

You'll be staying at various local three to five star hotels or lodges along your route, some of which are very iconic properties with great locations, views and history. All our accommodations are carefully selected by our Canadian Insiders. We'll make sure that wherever you stay, you get the best value and comfort based on the seasonal availability.

How much does my trip cost?

All our trips are personalized to fit our clients' schedule and budget. The price of your trip generally depends on the travel season, train service, accommodations, and the sightseeing tours you take. Please request your personalized quote which will provide you with the detailed information you need.

What is included in the price?

Typically we include and pre-book all your main trip components so you don't have to worry about your connections, places to stay, or activities on your trip. You'll receive your detailed digital travel documents, and our Canadian Insiders remain at your disposal throughout your trip to answer any questions.

What are the best ways to travel around Canada?

Canada has a network of spectacular roadways, train routes, ferry crossings, and float planes. We can arrange for you to travel by car or to sit back and relax.

When is the best time to see wildlife?

That depends on the destination and type. As a rule, the main feeding and migration seasons are best for wildlife experiences. Tell us which animals interest you and we'll make your trip coincide with the best viewing season.
This Trip in Pictures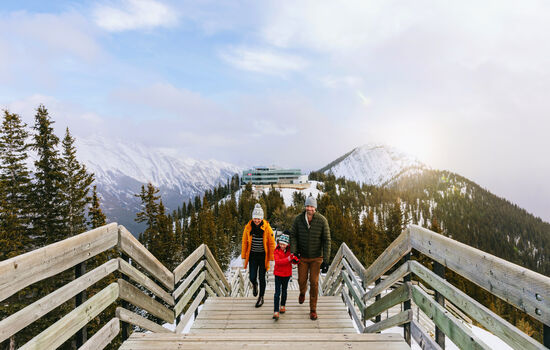 Discover a winter paradise on your Canadian Rockies winter getaway
Explore through a snow-covered Banff National Park
Arrive in the charming town of Banff and enter a winter wonderland
Spend the day exploring frozen waterfalls on a unique guided ice walk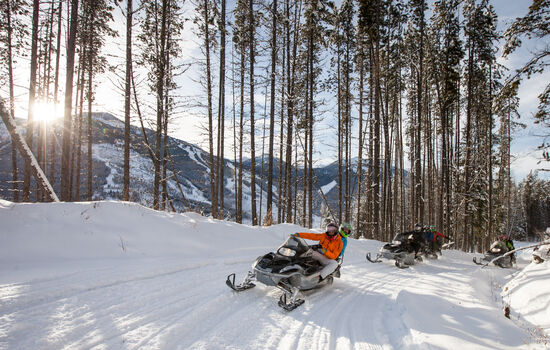 Choose a snowmobiling adventure through snow-covered trails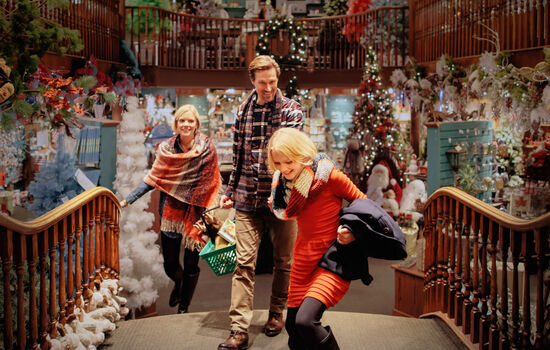 Explore the restaurants and shops of Banff Avenue
Experience the thrill of dogsledding
Ask your Vacation Advisor about adding extra time for skiing or snowboarding in the Canadian Rockies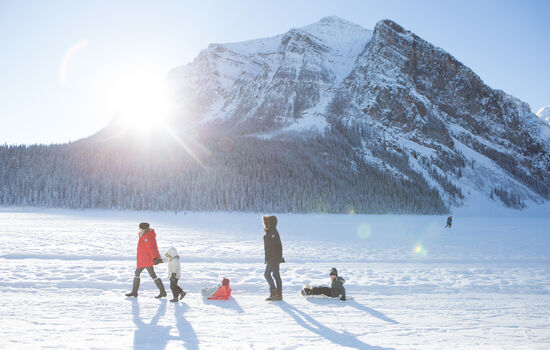 Make lasting memories for your family to hold onto forever
Recommended Itinerary
Think of this itinerary as just a starting point. Our experienced Canadian Insiders will create a personalized trip plan for you that matches your travel style, schedule and budget.
Day 1 – Canadian Vacation Begins – Calgary to the Canadian Rockies
Pick up your four-wheel drive SUV rental in Calgary, then watch the Canadian Rockies appear on the horizon as you make the scenic drive through the mountains. Spend the night in Banff, one of the liveliest mountain towns in Canada. Quaint shops give off a warm welcoming glow, and the scent of homemade maple fudge wafts out of sweet shops.
Spend the night in one of our family-favorite hotels Banff hotels.
Day 2 – Explore Banff National Park
Wake up to the crisp air and snowy winter wonderland of the Canadian Rockies. We've hand-picked some of the best Banff winter activities for you to choose from. Make sure to let us know if you'd like to include a day on the ski slopes, or a free day to simply soak in the hot tub and relax.
You have 3 options to choose from today:
• Option 1: Johnston Canyon Icewalk
This popular ice walk will lead you past the lower falls to the breathtaking upper icefalls. Travel through prime wildlife habitat and learn how Johnston Canyon was formed. Walking distance is 5.4km (3.4 miles) with an elevation gain of 125m (443 ft).
Activity rating: Moderate
• Option 2: Banff Sightseeing Tour
Take a small group tour to discover Banff's unique heritage and scenic hidden gems with a small group and guide. This morning tour is a great time to spot wildlife!
Activity rating: Easy
• Option 3: Snowshoe Adventure
Travel to Kootenay National Park and admire the dramatic colours of Marble Canyon on a snowshoe tour today. See how the pounding and frozen waters of Tokumn Creek have eroded a 40 meter deep limestone gorge. Walk through the forest left standing from the 2003 Kootenay fire and search for wildlife.
Activity rating: Moderate
Overnight in Banff.
Day 3 – Magical Lake Louise
Take a drive to magical Lake Louise. The scenery along the way is just a warm-up for the sight that greets you in Lake Louise: glaciers, ice castles, and a skating rink on the lake – this is a true winter wonderland. Take some time to explore the hotel and its grounds, then ride around the lake on a horse-drawn sleigh.
Grab some lunch at the hotel, and then it's time to head to the Lake Louise ski resort. Ride the gondola to an elevation of 6850 ft, where you can take in the magnificent views of sprawling mountain valleys. Whilst at the resort, choose from the following 2 activities options:
• Option 1: Tubing Adventure
Experience the thrill of sailing down the snowy slopes of Sunny Tube Park located at Lake Louise Ski Resort. The mountainous backdrop makes for the perfect setting for this exhilarating adventure. Slide solo or race against your family!
Activity rating: Easy
• Option 2: Wilderness Snow Shoeing
With a friendly guide, strap on some easy to use snowshoes to discover thrilling panoramic winter views formerly only available to skiers. Available to beginners.
Activity rating: Moderate
Overnight in Banff.
Day 4 – More Family Fun
Experience more bucket-list winter adventures today. Choose from the following 2 options:
• Option 1: Dog Sledding Tour
Travel to Canmore, about an hour from Banff, where you will meet a team of friendly huskies waiting to whisk you through the wilderness of the Canadian Rockies. Harness the dogs and drive the team yourself, or simply enjoy the experience as a passenger. Either way, this is sure to be one of your most memorable Canadian experiences. Includes transportation to Canmore.
Activity rating: Moderate
• Option 2: Guided Snowmobiling
Travel through Yoho National Park to join a guided snowmobile adventure in the mountains. Climb the winding trails of the scenic kicking horse Valley, staying just below the tree line. Enjoy delicious homemade cookies and hot chocolate with your fellow riders while warming up by the fire before heading back to Banff.
Activity rating: Moderate
Overnight in Banff.
Day 5 – Banff to Calgary
Full of family memories to last a lifetime, depart from Banff and make your way back to Calgary.
Start Dates
Calgary Trip Start Dates
Daily departures from December 13, 2020 to March 26, 2021
Pricing
Prices of this trip vary by departure date, hotel class and the choice of activities. Request your quote to check availability or to book this trip.
From US $1,540 to US $2,160 per person

Our Comfort Level vacations include our favorite 3 star hotels, in great locations. Combined with our unique sightseeing tours and personalized service, you'll receive exceptional value, a step above what you might expect anywhere else.

From US $2,210 to US $3,200 per person

Our Superior Level provides amazing value for clients wanting something more upscale but not at the price of a top-end 5 star resort. Superior level hotels are some of our favorites because of the character and unique charm that you won't find at the average chain hotel. Unique tours and seamless transfers complete your itinerary.
Accommodations

Accommodations

Below are examples of the places you can stay on this trip. Please get in touch to discuss your options and to check availability.

Hidden Ridge Resort

Moose Hotel & Suites

The Moose Hotel and Suites is a new property operated by the Banff Lodging company. Designed with warm, rich, natural materials, the Moose has an air of elegant sophistication. Just one minute from downtown Banff, the Moose features air conditioned One and Two Bedroom Suites. Guests enjoy access to the Meadow Spa and Pools as well as a complimentary Roam bus pass.

What's Included
Get your personalized trip plan organized and arranged for you
Get a trip that covers everything you want to see.
Know which places to go and which areas are best during certain times of the year.
Have someone local who knows the area to suggest trains, hotels, dining, sightseeing, etc.