Ultimate Canadian Rockies Heli-Hiking Adventure
starting fromUS $4,680per person
5 of 5 stars (1 review)
Choose your own activities and experiences to make the most of your trip.
Have all the details of your trip organized and arranged for you.
Explore Rocky Mountains On A Helicopter
A majestic, unspoiled and totally breathtaking adventure hiking high above the tree line around the Canadian Rockies. Discover astoundingly beautiful regions few people ever have the chance to see. Fly over massive glaciers, stroll through alpine meadows full of wildflowers, jump into turquoise alpine lakes, and stand in awe of the vast Canadian wilderness. We've left plenty of opportunity for activity and indulgence too!
What you'll love about this trip
Hiking in the Canadian Rockies

Heli-hiking in the Columbia Mountains

Spectacular and remote scenery and wildlife

Staying at mountain lodges and resorts

Experienced guides

Fantastic gourmet meals
Common Questions
Is this an escorted tour?

Our vacations are not typically 'escorted.' We combine the best of both worlds – the reassurance of seamless connections, customer service support, and scheduled activities, plus the freedom of 'independent' travel. You are not tied into a specific group, or a rigid daily itinerary. This allows us to personalize your trip to suit your occasion, interests, and timeframe.

Can this trip be made shorter or longer?

Absolutely! We personalize all our clients' trips to fit their exact tastes and needs. You can add days at locations that you'd like to explore and spend more time at. Or leave out certain areas that don't interest you as much. Discuss your travel goals with our Canadian Insiders who make sure that your trip fits your needs and budget.

Can I customize this trip?

Your trip can be as rich as you'd like, and completely arranged around your interests and needs. The greatest benefit of working with us is our local knowledge. You can get your FREE personalized trip plan and decide what you'd like to see and do.

If your trip is a special occasion, we'll make sure it is unforgettable. Or if you're traveling with a group, we'll take care of the logistics so you can share time together stress-free.

Where am I staying on this trip?

You'll be staying at various local three to five star hotels or lodges along your route, some of which are very iconic properties with great locations, views and history. All our accommodations are carefully selected by our Canadian Insiders. We'll make sure that wherever you stay, you get the best value and comfort based on the seasonal availability.

How much does my trip cost?

All our trips are personalized to fit our clients' schedule and budget. The price of your trip generally depends on the travel season, train service, accommodations, and the sightseeing tours you take. Please request your personalized quote which will provide you with the detailed information you need.

What is included in the price?

Typically we include and pre-book all your main trip components so you don't have to worry about your connections, places to stay, or activities on your trip. You'll receive your detailed digital travel documents, and our Canadian Insiders remain at your disposal throughout your trip to answer any questions.

What are the best ways to travel around Canada?

Canada has a network of spectacular roadways, train routes, ferry crossings, and float planes. We can arrange for you to travel by car or to sit back and relax.

When is the best time to see wildlife?

That depends on the destination and type. As a rule, the main feeding and migration seasons are best for wildlife experiences. Tell us which animals interest you and we'll make your trip coincide with the best viewing season.

Will it be cold when I visit Canada in summer?

The temperature varies from mild to hot, depending on location. Canada's west coast, mountain regions, and Maritimes enjoy milder summer temperatures. They range on average from 59°F to 77°F (15°C – 25°C). The interior of British Columbia, prairies, Ontario and Quebec can reach temperatures around 95°F (35°C). Northern Canada will range between 50°F to 64°F (10°C – 18°C) in summer.
This Trip in Pictures
Head to the skies and discover untouched mountain wilderness.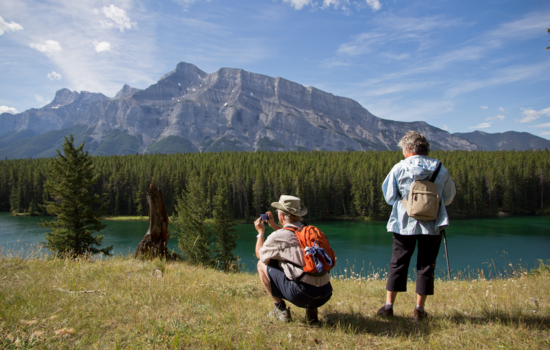 Get a chance to explore some of the most beautiful places in Banff National Park.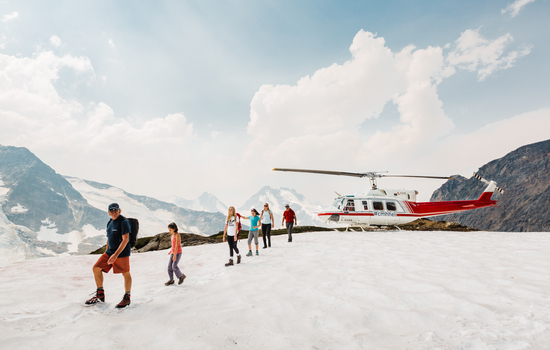 Feel humbled as you navigate the mountain trails.
Enjoy gourmet regional cuisine, and time to indulge.
Your vacation includes some time in the lively little town of Banff.
Recommended Itinerary
Think of this itinerary as just a starting point. Our experienced Canadian Insiders will create a personalized trip plan for you that matches your travel style, schedule and budget.
Day 1 – Calgary Arrival and Travel to Banff
After setting down in Calgary you will connect with a bus transfer to your hotel in Banff. Banff is a unique destination – a UNESCO World Heritage Site with all the charm of a small mountain community. Breathe in the fresh Canadian Rockies air – you've arrived!
Overnight in Banff.
Day 2 – Explore Banff National Park
Fill your lungs with cool, fresh Rockies air and head out for a day of exploration. Today your activity options are all about exploring some of the most beautiful places in Banff National Park.
You have the following 3 options today:
• Option 1: Guided Hike of the Day
Based on the day of the week you will get to enjoy a classic hike in the Canadian Rockies led by a professional guide. Hikes will vary in difficulty and length and include a boxed lunch, bottle water, use of hiking poles and day pack.
Activity rating: Moderate
• Option 2: Lake Louise & Moraine Lake Tour
On this afternoon sightseeing bus tour visit the jewel of the Canadian Rockies, Lake Louise, and the world-renowned Moraine Lake, both of which are UNESCO World Heritage Sites. This journey gives you plenty of time to take photos and explore their shorelines.
Activity rating: Easy
• Option 3: Spray River Horseback Ride
This introductory trail ride brings you into untouched wilderness just outside the charming town of Banff. Pass by the roaring Bow Falls, the famous Fairmont Banff Springs Golf Course before crossing over the Spray River. Experience the true Canadian Rocky Mountains by horseback.
Activity rating: Easy

Overnight in Banff.
Day 3 – Banff National Park Discovery Continues
Continue to adventure through the Canadian Rockies today with one of the many activity options the area has to offer.
You have the following 3 options to help you enjoy Banff:
• Option 1: Scenic Ride to Sunshine Village + Hosted Trail Walk
Starting at the base (1,660m) take the Scenic Alpine Shuttle or Sightseeing Gondola (depending on the day of the week) up to the village at 2,164m, all while taking in the views of the valley. From the Village, ride the Standish Chairlift to over 2,400m and experience 360-degrees of breath taking views. Once at the top, surrounded by the iconic peaks of the Canadian Rocky Mountains, join a hosted trail walk. With your knowledgeable guide, visit the Standish Viewing Deck, then take the Rock Isle Road back to Sunshine Village, stopping by Rock Isle Lake viewpoint for the beautiful vistas.
Activity rating: Easy
• Option 2: Horseshoe Canyon River Rafting
Exciting whitewater thrills await you on the Bow River today! Your tour offers adventure lovers like yourself rafting excitement, and the Horseshoe Canyon section offers spectacular scenery and big waves to take on.
Activity rating: Moderate
• Option 3: Privately Guided Sunrise Photography Tour (additional cost)
Wake up early to experience the magical wilderness of Banff National Park at sunrise. Explore with a private guide and learn how to take great photos. Ideal for the amateur photographer wanting to increase their skills with a manual camera. This is a sure way to make friends and family at home jealous!
Activity rating: Moderate
Overnight in Banff.
Day 4 – Remote Wilderness Lodge and Heli-Hiking Adventure Begins
The excitement begins bright and early with a transfer to the heli-pad. Enjoy a boxed lunch on the way. Your Canadian Rockies hiking holiday begins with a flight to a beautiful lodge, accessible only by helicopter. After being outfitted with all the equipment you'll meet with your Canada adventure travel guide, then fly to a spectacular mountain ridge to start your afternoon hike.
Hiking takes place between 1,828 metres (6,000 feet) and 2,438 metres (8,000 feet), which is a very comfortable altitude for most people. One of the greatest advantages of this Canadian Rockies hiking adventure is the ability to tailor the hikes to accommodate all abilities, regardless of age.
After your hike, which is as short or as long as you want it to be, you're flown back to the lodge for some of the best cuisine your eyes and taste buds have ever experienced.
A typical night includes relaxing in the whirlpool, or sharing stories with new friends by the fire, then falling asleep under a down comforter in your room with private bath.
The next morning, you wake with a stretching class before breakfast, looking forward to more heli-hiking, more spectacular scenery, more fantastic food and the chance to take yourself higher than you ever thought you'd go.

Insider tip: After a long day of hiking, nothing feels better than a relaxing massage to soothe your sore muscles. Massage appointments are reservable at the lodge on the first night – we recommend booking early to avoid disappointment! (additional cost)
Overnight at a fly-in mountain lodge.
Days 5 and 6 – Heli-Hiking Adventure Continues
Spend the next two days exploring the stunning terrain of the Columbia Mountains. A typical day involves a helicopter ride to a jaw-droppingly beautiful hiking location in the morning, a delicious packed lunch, and then another helicopter flight to a new afternoon hiking location. You will find yourself stunned and amazed at each new spot with stunning mountain vistas, turquoise alpine lakes, meadows of wildflowers, glaciers and not a single human for miles around. Your experienced mountain guides will teach you about the geography and wildlife of the area while expertly guiding you through the mountain terrain.

After a rewarding day of hiking, enjoy gourmet meals at the lodge – food never tasted so good. Seated at long family-style dining tables, mingle with fellow guests, guides, and lodge staff and relive the highlights from your once-in-a-lifetime mountain adventure.
Overnight at a fly-in mountain lodge.
Day 7 – Heli-Lodge to the Calgary Airport
With fond memories, you will enjoy for a lifetime you bid adieu to the Rockies as you return by helicopter to the landing pad, where a transfer meets you to take you to the Calgary Airport for your flight back home.

Insider tip: Please consult your Vacation Advisor to confirm your expected arrival in Calgary prior to booking flights.
Start Dates
2022 Calgary Start Dates*
Jun 26, 29
Jul 2, 5, 8, 11, 14, 17, 20, 23, 26, 29
Aug 1, 4, 7, 10, 13
Note:
• Call for availability as many dates sell out far in advance.
Pricing
Prices of this trip vary by departure date, hotel class and the choice of activities. Request your quote to check availability or to book this trip.
Canadian Heli-Hiking Adventure

From US $4,680 to US $5,060 per person

On our Wilderness Adventures, you'll enjoy days with experienced naturalist guides, some meals, seamless connections, and accommodations suited to the unique Canadian surroundings.
Accommodations

Accommodations

Below are examples of the places you can stay on this trip. Please get in touch to discuss your options and to check availability.

Rimrock Resort

Bobbie Burns Heli-hiking Lodge

Nestled in the wilderness of the Columbia Mountain Range, the Bobbie Burns Lodge feels like the edge of the world. Fly into the 26 room Bobbie Burns Lodge to find all the amenities you expect from a luxury mountain lodge. Have fun using the climbing wall, games room, and curling rink, then relax in the bar and dining room with amazing wine cellar, or in the outdoor whirlpool and sauna.

What's Included

Customer Reviews (1)

You are all top notch

Bobbi

" Thanks so much for planning the trip for us. You are all top notch! "
Get your personalized trip plan organized and arranged for you
Get a trip that covers everything you want to see.
Know which places to go and which areas are best during certain times of the year.
Have someone local who knows the area to suggest trains, hotels, dining, sightseeing, etc.