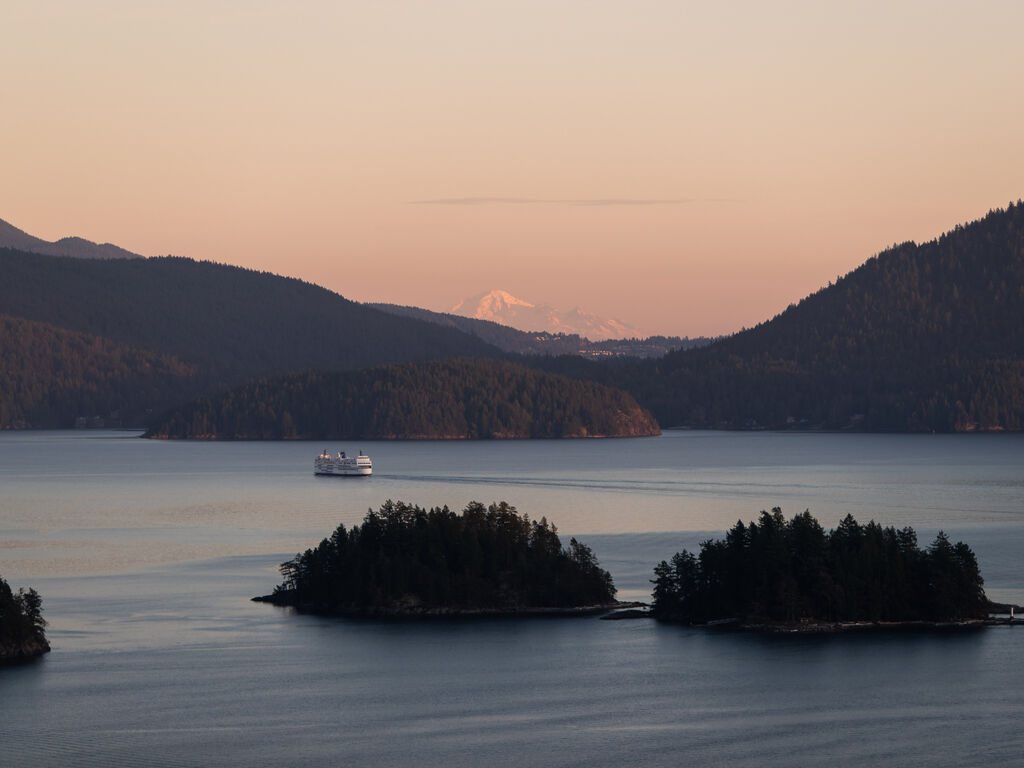 Island Hopping Along Canada's Pacific Coast
starting fromUS $3,060per person
Choose your own activities and experiences to make the most of your trip.
Have all the details of your trip organized and arranged for you.
Canada West Coast Road Trip
Spend eleven days exploring British Columbia's stunning Sunshine Coast and Vancouver Island. Discover hidden gems such as Princess Louisa Inlet with its soaring cliffs and magnificent waterfalls. Explore the charming sea side towns of Central Vancouver Island, before travel to the windswept beaches of Pacific Rim National Park.
What you'll love about this trip
British Columbia's beautiful west coast

Old growth rainforest and windswept beaches

Princess Louisa Inlet cruise

Whales and bears in Clayoquot Sound

Charming seaside towns

Activities to suit your pace
Common Questions
Is this an escorted tour?

Our vacations are not typically 'escorted.' We combine the best of both worlds – the reassurance of seamless connections, customer service support, and scheduled activities, plus the freedom of 'independent' travel. You are not tied into a specific group, or a rigid daily itinerary. This allows us to personalize your trip to suit your occasion, interests, and timeframe.

Can this trip be made shorter or longer?

Absolutely! We personalize all our clients' trips to fit their exact tastes and needs. You can add days at locations that you'd like to explore and spend more time at. Or leave out certain areas that don't interest you as much. Discuss your travel goals with our Canadian Insiders who make sure that your trip fits your needs and budget.

Can I customize this trip?

Your trip can be as rich as you'd like, and completely arranged around your interests and needs. The greatest benefit of working with us is our local knowledge. You can get your FREE personalized trip plan and decide what you'd like to see and do.

If your trip is a special occasion, we'll make sure it is unforgettable. Or if you're traveling with a group, we'll take care of the logistics so you can share time together stress-free.

Is it safe to drive in Canada?

New visitors will drive with ease because of the wide and well maintained roadways. We'll ensure your trip includes the most spectacular and safest routes throughout your trip.

Where am I staying on this trip?

You'll be staying at various local three to five star hotels or lodges along your route, some of which are very iconic properties with great locations, views and history. All our accommodations are carefully selected by our Canadian Insiders. We'll make sure that wherever you stay, you get the best value and comfort based on the seasonal availability.

How much does my trip cost?

All our trips are personalized to fit our clients' schedule and budget. The price of your trip generally depends on the travel season, train service, accommodations, and the sightseeing tours you take. Please request your personalized quote which will provide you with the detailed information you need.

What is included in the price?

Typically we include and pre-book all your main trip components so you don't have to worry about your connections, places to stay, or activities on your trip. You'll receive your detailed digital travel documents, and our Canadian Insiders remain at your disposal throughout your trip to answer any questions.

What are the best ways to travel around Canada?

Canada has a network of spectacular roadways, train routes, ferry crossings, and float planes. We can arrange for you to travel by car or to sit back and relax.

When is the best time to see wildlife?

That depends on the destination and type. As a rule, the main feeding and migration seasons are best for wildlife experiences. Tell us which animals interest you and we'll make your trip coincide with the best viewing season.

Will it be cold when I visit Canada in summer?

The temperature varies from mild to hot, depending on location. Canada's west coast, mountain regions, and Maritimes enjoy milder summer temperatures. They range on average from 59°F to 77°F (15°C – 25°C). The interior of British Columbia, prairies, Ontario and Quebec can reach temperatures around 95°F (35°C). Northern Canada will range between 50°F to 64°F (10°C – 18°C) in summer.
This Trip in Pictures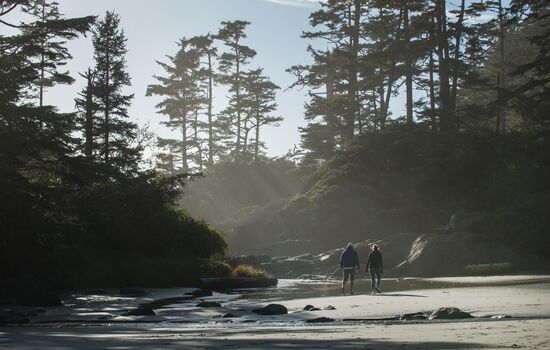 Escape into the beauty of the rugged west coast on this scenic road trip
Your trip begins in the vibrant city of Vancouver
Take the ferry from Vancouver to Sunshine Coast
Discover the best of the Sunshine Coast and Vancouver Island on this scenic road-trip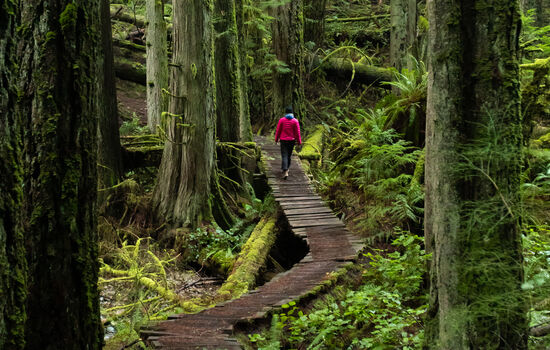 Discover old-growth rainforests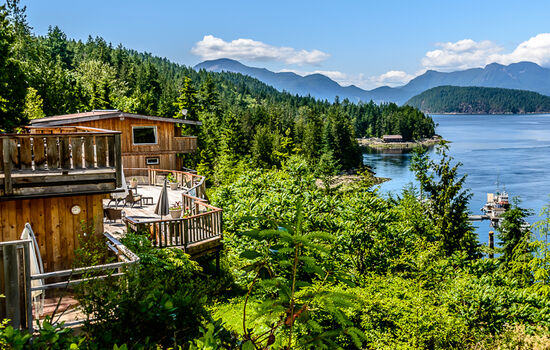 Stay at luxurious wilderness resorts
Venture up Princess Louisa Inlet on a scenic zodiac tour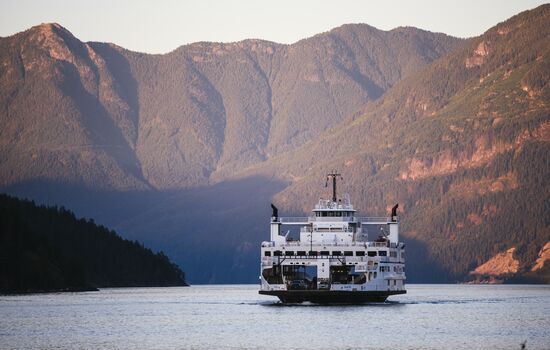 Enjoy a scenic ferry from Earl's Cove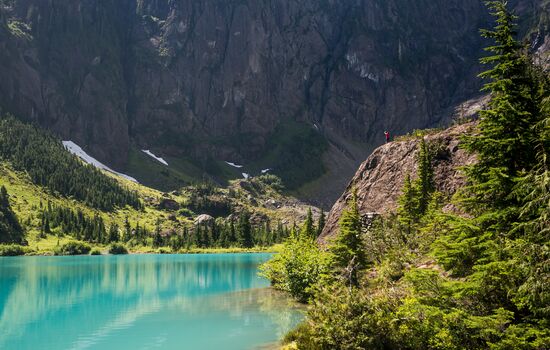 Explore Strathcona Park in Central Vancouver Island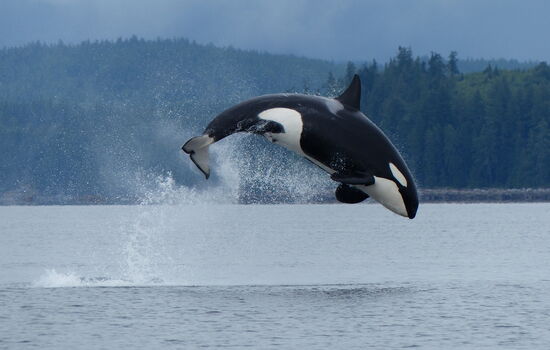 Take a drive to Campbell River - gateway to the Discovery Islands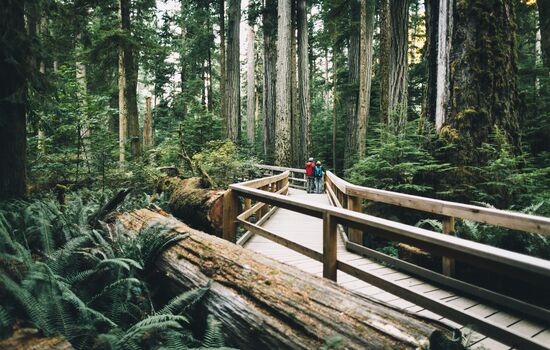 Discover massive trees in Cathedral Grove - some over 800 years old.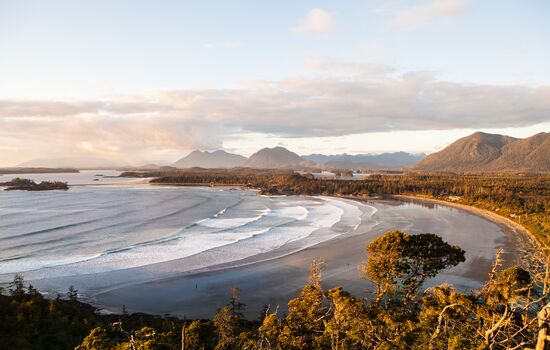 Explore Pacific Rim National Park
See whales and other wildlife with experienced guides
Recommended Itinerary
Think of this itinerary as just a starting point. Our experienced Canadian Insiders will create a personalized trip plan for you that matches your travel style, schedule and budget.
Day 1 – Arrive Vancouver
Welcome to Vancouver! One of the most beautiful cities in the world, Vancouver is surrounded by towering mountains and sparkling ocean. Pick up a rental SUV at the airport and drive to your downtown hotel for the night.
Feature Dinner in Vancouver
Did you know Vancouver is one of the top culinary destinations in the world? We want to make sure you have a great dining experience in a beautiful setting. Included is a meal at one of our favourite local spot overlooking the harbour.
Overnight in Vancouver.
 Day 2 – Vancouver to the Sunshine Coast
Accessible only by ferry or air, this strip of beaches, cedar forests, hiking trails, and artist colonies is just 2 hours away from Vancouver. The ferry ride takes 45 minutes and boasts stunning scenery. Fresh seafood is the order of the day, and time at leisure can be spent attending arts and crafts shows by local artisans, or beachcombing. We guarantee you will fall in love with this hidden piece of paradise.
Spend the night in a remote yet luxurious wilderness lodge on the Sunshine Coast.
Day 3 – Discover Princess Louisa Inlet
Relish the open water and relax on a Princess Louisa Inlet boat tour. Wind your way through wilderness areas of Jervis Inlet, then pass through Malibu Rapids into stunning Princess Louisa Inlet – the inlet possesses a unique ecological system in the only true example of fjord land on the Pacific coast. Mile high cliffs teem with stunning waterfalls that trickle down from craggy granite bluffs looming over you from both sides.
Activity rating: Easy
Overnight on the Sunshine Coast.
Day 4 – Explore Skookumchuck Narrows Provincial Park
Today we recommend you hike through coastal rainforest to visit Skookumchuck Rapids. Watch in awe as millions of cubic feet of saltwater rush through the Narrows and create an enormous standing wave. Your hike ends right at the water's edge, where you can watch white-water kayakers brave the rapids.
Overnight on the Sunshine Coast.
 Day 5 – Sunshine Coast to Vancouver Island
Venture to the northern tip of the Sunshine Coast, where two spectacular ferry journeys will take you across the Strait of Georgia. Arrive in quaint Courtenay on Vancouver Island – home to long, sandy beaches, award-winning vineyards, and farm to table dining experiences.
Overnight in Courtenay.
Day 6 – Explore the Central Island
With so much to see, you are spoiled for choice today. Travel north to Campbell River – gateway to the Discovery Islands and spectacular Strathcona Provincial Park. Or drive south to visit the seaside towns of Qualicum Beach and Parksville, Cathedral Grove's old-growth giants and the charming Coombs Country Market. Either way, make sure to leave plenty of time to stroll one of the area's long sandy beaches.
Overnight in Courtenay.
Day 7 – Courtney to Ucluelet
Today the scenery changes as you drive west across Vancouver Island to Ucluelet, located in Pacific Rim National Park. A small town tucked along the beaches of the wild and rugged Pacific, Ucluelet showcases all its "big sister" Tofino has to offer, but in a smaller, quieter, and less busy setting. Indulge in delicious local cuisine, savour the awesome power of nature that surrounds you, and get lost in endless ocean views.
Overnight in Ucluelet.
Day 8 – Wildlife Viewing in Clayoquot Sound
Ucluelet and Tofino are part of the UNESCO designated Clayoquot Sound Biosphere Reserve, a protected area providing habitats for a vast array of rare or endangered species. Choose from 2 of Tofino's best wildlife viewing options today:
• Option 1: Whale Watching in Tofino
Tofino is famous for its whale watching, so choose from a covered vessel or rigid-hull zodiac boat and head out with your camera. The rich and nutrient filled ocean surrounding Tofino is loaded with a variety of marine wildlife including many different species of whales as well as harbour seals and sealions, sea otters, porpoises and a myriad of birdlife including puffins, blue herons and bald eagles.
Activity rating: Easy
• Option 2: Bear Watching in Tofino
Board a rigid-hull zodiac boat and head out with your camera on bear watching adventure. With a specialist guide, see Clayoquot Sound's black bears up close as they forage the beaches for rock crab, starfish and even a bit of kelp.
Activity rating: Easy
Overnight in Ucluelet.
Day 9 – Active Adventures in Pacific Rim National Park
The old-growth rainforest and open waters of Pacifc Rim beckon to be explored today. Choose from 2 of our favorite active tour options:
• Option 1: Kayak Tour
The sheltered waters of the Ucluelet harbour offer an ideal location for a relaxing paddle. With a guide and small group, visit a beautiful hidden waterfall, visit the local fish hatchery, or explore the inner boat basin. The harbour is full of wildlife; so watch for black bears along the shoreline, rich intertidal life beneath your kayak and eagles circling overhead.
Activity rating: Moderate
• Option 2: Guided Rainforest Hike
With a private guide, wander along the boardwalk trails and sandy beaches of Pacific Rim National Park Reserve. Learn about local ecosystems of this coastal rainforest, and explore the rich history of the region, from the fur-trade to whaling and everything in between.
Activity rating: Moderate
Overnight in Ucluelet.
 Day 10 – Ucluelet to Vancouver
A leisurely drive across the Island brings you to Nanaimo, where you'll take a scenic ferry ride back to the mainland. Spend an evening close to the Vancouver airport – we recommend a visit to the Steveston Docks for fish and chips and some final souvenir shopping.
Overnight in Vancouver.
 Day 11 – Depart Vancouver
Drop off your car at the Vancouver International Airport. With fond memories made, your vacation comes to an end.
Start Dates
2020 season:
Daily Start Dates
July 15 to October 15
2021 season:
Daily Start dates
May 1 to October 15
Pricing
Prices of this trip vary by departure date, hotel class and the choice of activities. Request your quote to check availability or to book this trip.
Standard Rooms Comfortable, standard room types at each resort

From US $3,060 to US $3,720 per person

Our Comfort Level vacations include our favorite 3 star hotels, in great locations. Combined with our unique sightseeing tours and personalized service, you'll receive exceptional value, a step above what you might expect anywhere else.

Superior Rooms Superior room types, or rooms with views

From US $3,520 to US $4,280 per person

Our Superior Level provides amazing value for clients wanting something more upscale but not at the price of a top-end 5 star resort. Superior level hotels are some of our favorites because of the character and unique charm that you won't find at the average chain hotel. Unique tours and seamless transfers complete your itinerary.
Accommodations

Accommodations

Below are examples of the places you can stay on this trip. Please get in touch to discuss your options and to check availability.

The Black Rock Oceanfront Resort

West Coast Wilderness Lodge

Situated on the stunning Sunshine Coast of British Columbia, just 145 km from Vancouver, the West Coast Wilderness Lodge offers first-class adventure, great dining and luxury accommodations. Explore the sheltered waters on a kayak excursion, view the mighty Skookumchuck Rapids, tour marine wildlife by zodiac, or hike through the Pacific Northwest rain forest - all at your fingertips from this unique oceanfront lodge.

What's Included
Get your personalized trip plan organized and arranged for you
Get a trip that covers everything you want to see.
Know which places to go and which areas are best during certain times of the year.
Have someone local who knows the area to suggest trains, hotels, dining, sightseeing, etc.