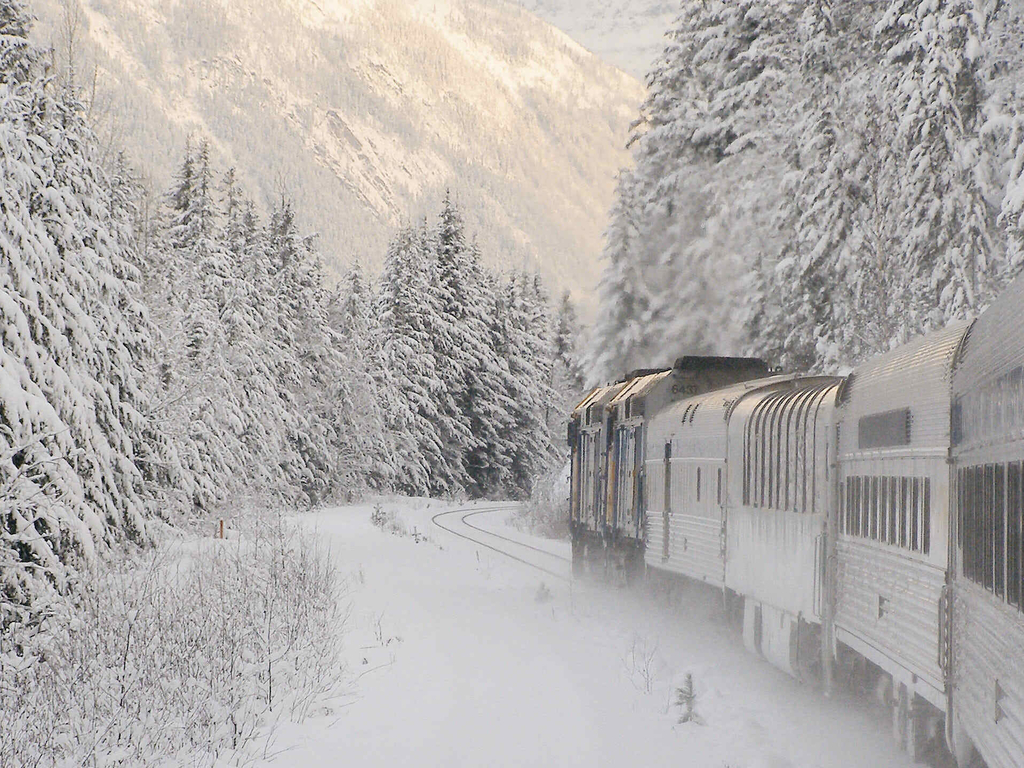 Canadian Cross Country Journey in Winter
starting fromUS $3,590per person
Choose your own activities and experiences to make the most of your trip.
Have all the details of your trip organized and arranged for you.
Sleeper Train Journey in Winter
Journey across Canada by sleeper train in the heart of winter. Watch the frozen landscape pass by from your cozy cabin - a highlight is sure to be the snowy Canadian Rockies in all their winter glory. Enjoy tours on either end of your journey - see beautiful Niagara Falls shrouded with ice, and lush coastal Vancouver with a backdrop of mountains.
What you'll love about this trip
See icy Niagara Falls on a guided tour

Sleep onboard the famous 'Canadian' Train

Travel through the Canadian Rockies covered in snow

Explore beautiful coastal Vancouver
Common Questions
Is this an escorted tour?

Our vacations are not typically 'escorted.' We combine the best of both worlds – the reassurance of seamless connections, customer service support, and scheduled activities, plus the freedom of 'independent' travel. You are not tied into a specific group, or a rigid daily itinerary. This allows us to personalize your trip to suit your occasion, interests, and timeframe.

Can this trip be made shorter or longer?

Absolutely! We personalize all our clients' trips to fit their exact tastes and needs. You can add days at locations that you'd like to explore and spend more time at. Or leave out certain areas that don't interest you as much. Discuss your travel goals with our Canadian Insiders who make sure that your trip fits your needs and budget.

Can I customize this trip?

Your trip can be as rich as you'd like, and completely arranged around your interests and needs. The greatest benefit of working with us is our local knowledge. You can get your FREE personalized trip plan and decide what you'd like to see and do.

If your trip is a special occasion, we'll make sure it is unforgettable. Or if you're traveling with a group, we'll take care of the logistics so you can share time together stress-free.

Am I on the train the whole time?

All of our trips include stops to get off the train to explore Canada's beautiful locations, national parks and unique cities. However, if you're keen to maximize your time onboard, we'll pair you up with the perfect train experience.

Where am I staying on this trip?

This trip features an overnight rail journey, and you'll get a comfortable private cabin on the train for the duration of your train ride. The trains feature common lounge areas and dining cars where you can socialize with fellow travelers.

When not on the train, you'll be staying at various three to five star hotels or lodges along your route. All our accommodations are carefully selected by our Canadian Insiders. We'll make sure that wherever you stay, you get the best value and comfort based on the seasonal availability.

What is the train experience like?

Because most Canadians typically do not use the train for commuting (as in the US or Europe), the two main rail providers here are driven by tourism. You'll experience the romance of true trans-continental rail travel, with a wide selection of services, accommodation types, and great food.

Featured train experiences:

VIA Rail is Canada's national train provider, with routes running Coast to Coast and through remote parts of northern Canada. The type of train depends on your journey, and can vary from the classic trans-continental sleeper trains to daylight trains with overnight stops.

Sleeper Trains feature a once in a lifetime adventure of sleeping on the train in comfortable cabins. You can relax in your private onboard accommodations, or enjoy local wines and chef-prepared meals in the dining car during this unforgettable trip.

How much does my trip cost?

All our trips are personalized to fit our clients' schedule and budget. The price of your trip generally depends on the travel season, train service, accommodations, and the sightseeing tours you take. Please request your personalized quote which will provide you with the detailed information you need.

What is included in the price?

Typically we include and pre-book all your main trip components so you don't have to worry about your connections, places to stay, or activities on your trip. You'll receive your detailed digital travel documents, and our Canadian Insiders remain at your disposal throughout your trip to answer any questions.

What are the best ways to travel around Canada?

Canada has a network of spectacular roadways, train routes, ferry crossings, and float planes. We can arrange for you to travel by car or to sit back and relax.

When is the best time to see wildlife?

That depends on the destination and type. As a rule, the main feeding and migration seasons are best for wildlife experiences. Tell us which animals interest you and we'll make your trip coincide with the best viewing season.
This Trip in Pictures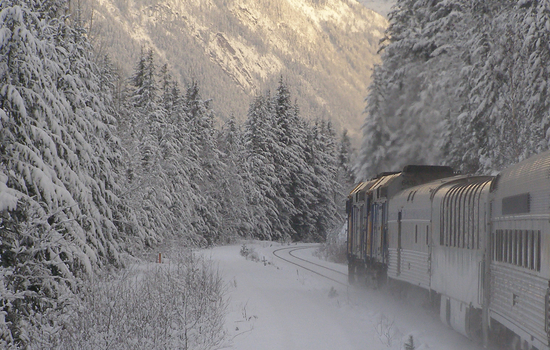 Cross Canada by train in winter.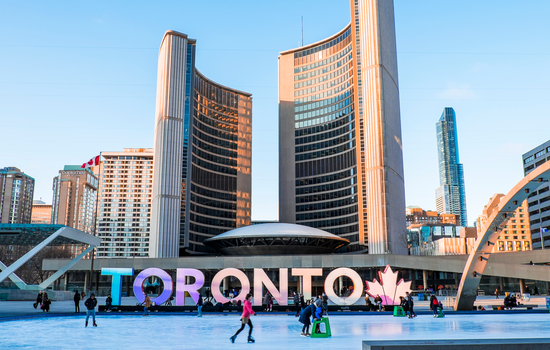 Start your journey in Toronto.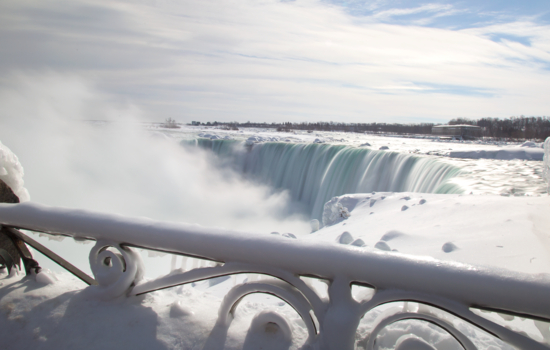 See icy Niagara Falls on a day tour.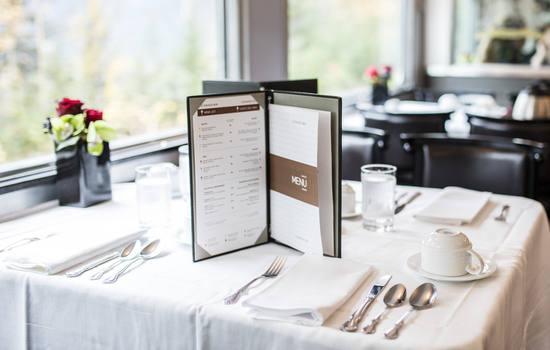 Board The Canadian train and enjoy first class service.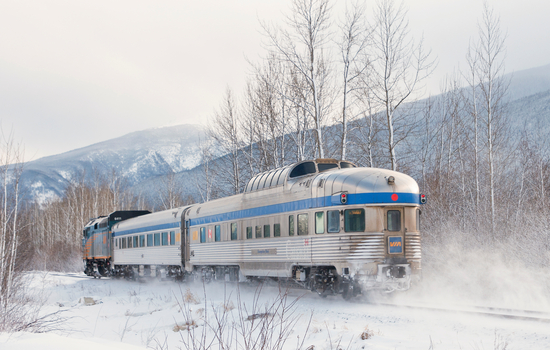 Watch Canada's winter scenery pass by outside.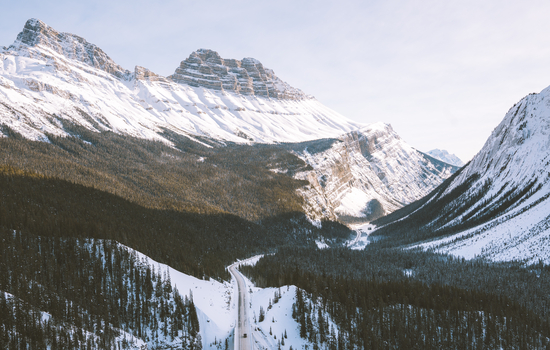 A highlight will be the Canadian Rockies and the mountains of British Columbia.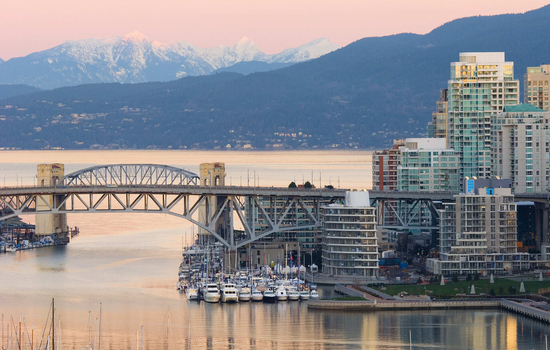 End your journey in beautiful Vancouver on the west coast.
Recommended Itinerary
Think of this itinerary as just a starting point. Our experienced Canadian Insiders will create a personalized trip plan for you that matches your travel style, schedule and budget.
Day 1 – Arrive in Toronto
Arrive in Canada's largest city, where a friendly driver takes you to your downtown hotel. After check-in, head out to see how Toronto embraces the winter. Visit the distillery district adorned with lights, try skating at Nathan Phillips Square, or sample one of the world class eateries that Toronto is famous for.
Overnight in Toronto.
Day 2 – Explore Niagara or Toronto
Choose from 2 activity options today:
• Option 1: Niagara Falls Winter Tour
Join a small group tour to see Niagara Falls in its winter splendour. Frozen waterfalls cascade beside the rushing water and layers of snowy ice cover the river. Trees and fences are covered beautiful, frozen mist and make for great photos in the sunlight. You'll visit some of the main attractions, including the Skylon Tower and the Journey Behind the Falls.
Activity rating: Easy
• Option 2: Toronto Sightseeing Tour
A small group tour highlights the must-see attractions and sites in the city. Visit  Casa Loma, the famous St. Lawrence Market, Nathan Phillips Square, and more.
Activity rating: Easy
Feature Dinner in Toronto
We want to make sure you eat at the best spot in Toronto – and what better spot than the CN tower at night? Marvel at the twinkling city lights as you eat world class cuisine.
Overnight in Toronto.
Day 3 – Board VIA Rail's Canadian Train 
Your cross-country rail journey begins this morning as you climb onboard the famous "Canadian" train. Prepare for your first overnight sleep in a cozy cabin with a large picture window and seats that become a comfortable nighttime bed. Spend some time in the lounge or viewing cars to meet your fellow travellers. Throughout your journey you'll dine on freshly prepared meals in the dining car.
Overnight onboard the train in your private cabin.
Day 4 and 5 – Canadian Train Journey West – Onboard the Canadian Train
The scenery changes as you leave behind northern Ontario and travel across the undulating plains of the Prairie Provinces. Watch the sun glint off the snow-covered fields, with the occasional small town or grain elevator marking the distance.
Overnight onboard the train in your private cabin.
Day 6 – Into the Canadian Rockies – Onboard the Canadian Train
The exhilaration of your Canadian train trip continues when in the distance you see the glorious, snow-covered peaks of the Canadian Rockies. Soon you'll be travelling through the pine forests of Jasper National Park so keep your camera ready for the wildlife, rivers, and lakes that make this park so spectacular. By evening, you'll be continuing onwards through the mountains of British Columbia.
Overnight on board the train in your private cabin.
Day 7 – Arrive in Vancouver
Today your train arrives in coastal Vancouver – you've made it over 4000 kilometres to the west coast! A friendly driver meets you at the train station to take you to your hotel.
Surrounded by rainforest, mountains and ocean, a typical day in Vancouver can include a sail on the harbour, a round of golf, and a snowshoe in the nearby North Shore Mountains. Head out and enjoy the city's restaurants – Vancouver is one of the top culinary destinations in the world.
• Included Admission: Vancouver Lookout Tower
Enjoy a 360º aerial view of Vancouver and the snowy North Shore Mountains from the panoramic observation deck. Guided tours are available learn about Vancouver's history, or you explore the interpretive displays at your own pace.
Feature Dinner in Vancouver
This evening we've arranged dinner at one of our favorite harbourfront restaurants. Enjoy your meal as you watch seaplanes land on the Coal Harbour, while the lights of the North Shore Mountains glitter in the background.
Overnight in Vancouver.
Day 8 – Explore Vancouver
Spend some time getting to know Vancouver on a guided tour.
• Included Activity: Privately Guided Sightseeing
There is so much to see in Vancouver – we recommend spending the day with a private local guide, on a tour catered to your interests. At your own pace, discover historic Gastown and the 2010 Olympic Cauldron before heading to Stanley Park – an oasis of towering rainforest surrounded by the Pacific Ocean. Savour the laid-back beach vibe of English Bay, eclectic Granville Island Market, and the lush VanDusen Botanical Garden.
Activity Rating: Easy
Day 9 – Depart Vancouver
Much too soon, you leave the clean air and colorful sights of Canada behind as your Cross Canada train vacation comes to an end. A private driver will take you from your hotel to the airport in time for your flight.
Start Dates
2021-22 Dates Starting in Toronto
November 3 – March 30
Mondays and Fridays
2021-22 Dates Starting in Vancouver
November 1 – March 28
Wednesdays and Saturdays
Tip: To see the snowiest winter landscape, we recommend doing this trip between December and mid-March
Pricing
Prices of this trip vary by departure date, hotel class and the choice of activities. Request your quote to check availability or to book this trip.
Comfort Hotels & Sleeper Plus Train

From US $3,590 to US $4,040 per person

Our Deluxe Plus Level packages are, quite simply, the most luxurious way to experience Canada. Typically, you'll be staying on the Gold floor of Canada's iconic Fairmont resorts, enjoying your own exclusive check-in desk and personal concierge along with complimentary breakfast, afternoon hors d'oeuvres, and an honor bar. The luxury continues on your vacation with fully personalized private tours and transfers.

Superior Hotels & Sleeper Plus Train

From US $3,830 to US $4,380 per person

Our Deluxe Plus Level packages are, quite simply, the most luxurious way to experience Canada. Typically, you'll be staying on the Gold floor of Canada's iconic Fairmont resorts, enjoying your own exclusive check-in desk and personal concierge along with complimentary breakfast, afternoon hors d'oeuvres, and an honor bar. The luxury continues on your vacation with fully personalized private tours and transfers.

Deluxe Hotels & Prestige Class Train

From US $6,550 to US $7,240 per person

On our Deluxe Level vacation, it's likely you'll be staying at one of the iconic Canadian Fairmont Hotels in a room with a view. Built for the Canadian Pacific Railway in the early 20th century, these hotels are luxurious and full of history – ensuring an experience you'll never forget. Enjoy unique sightseeing experiences and the insider detail that only Fresh Tracks Canada can provide.
Train Experience

Train Experience

Learn more about the onboard service and look inside the trains you will be traveling on during this trip.

VIA Rail

VIA Rail trains take passengers across the vast country of Canada through some of the most amazing scenery in North America. The service includes sleeper cars, gourmet meals, and lounge and viewing areas.

Sleeping on the train

Experience a once in a lifetime adventure of an overnight train journey. Sleep on board the train and enjoy chef-prepared meals in the dining car during this unforgettable trip.

Accommodations

Accommodations

In addition to the sleeper train cabin, below are examples of the places you can stay on this trip. Please get in touch to discuss your options and to check availability.

Fairmont Royal York Hotel

Fairmont Waterfront Hotel

This luxury hotel is located in Vancouver's inner harbour, minutes from Canada Place, the cruise ship terminals and gastown. Sit back and relax in your room as you watch floatplanes take off and land right in front of you with the beautiful north shore mountains as your backdrop. Plus you have the luxurious common amenities that come with staying at any Fairmont hotel.

What's Included
Get your personalized trip plan organized and arranged for you
Get a trip that covers everything you want to see.
Know which places to go and which areas are best during certain times of the year.
Have someone local who knows the area to suggest trains, hotels, dining, sightseeing, etc.