Grizzly Bears of the Great Bear Rainforest
starting fromUS $3,780per person
5 of 5 stars (3 reviews)
Choose your own activities and experiences to make the most of your trip.
Have all the details of your trip organized and arranged for you.
The Ultimate Grizzly Bear Viewing Safari On Canada's West Coast
Grizzly bears are one of the most majestic predators on the planet, and there are not many places in the world where you can observe them up close, in their natural habitat. The Great Bear Rainforest, a vast stretch of wilderness on Canada's remote west coast is also one of the most beautiful – and remote places – to visit. You can only get there by small boat or floatplane, and the area is an ecological paradise – from the big mammals (grizzly and black bears; humpback and orca whales), to the schools of migrating salmon and the bald eagles that feed on them, down to the infinitely diverse and colourful tidal estuaries. It is also an area rich in Indigenous culture and history.
What you'll love about this trip
Expert guides and small group size - 16 guests maximum

Seeing grizzly bears up close in the Great Bear Rainforest

Spectacular float plane rides

Stay in a cozy wilderness lodge with gourmet meals
Common Questions
Is this an escorted tour?

Our vacations are not typically 'escorted.' We combine the best of both worlds – the reassurance of seamless connections, customer service support, and scheduled activities, plus the freedom of 'independent' travel. You are not tied into a specific group, or a rigid daily itinerary. This allows us to personalize your trip to suit your occasion, interests, and timeframe.

Can this trip be made shorter or longer?

Absolutely! We personalize all our clients' trips to fit their exact tastes and needs. You can add days at locations that you'd like to explore and spend more time at. Or leave out certain areas that don't interest you as much. Discuss your travel goals with our Canadian Insiders who make sure that your trip fits your needs and budget.

Can I customize this trip?

Your trip can be as rich as you'd like, and completely arranged around your interests and needs. The greatest benefit of working with us is our local knowledge. You can get your FREE personalized trip plan and decide what you'd like to see and do.

If your trip is a special occasion, we'll make sure it is unforgettable. Or if you're traveling with a group, we'll take care of the logistics so you can share time together stress-free.

Where am I staying on this trip?

You'll be staying at various local three to five star hotels or lodges along your route, some of which are very iconic properties with great locations, views and history. All our accommodations are carefully selected by our Canadian Insiders. We'll make sure that wherever you stay, you get the best value and comfort based on the seasonal availability.

How much does my trip cost?

All our trips are personalized to fit our clients' schedule and budget. The price of your trip generally depends on the travel season, train service, accommodations, and the sightseeing tours you take. Please request your personalized quote which will provide you with the detailed information you need.

What is included in the price?

Typically we include and pre-book all your main trip components so you don't have to worry about your connections, places to stay, or activities on your trip. You'll receive your detailed digital travel documents, and our Canadian Insiders remain at your disposal throughout your trip to answer any questions.

What are the best ways to travel around Canada?

Canada has a network of spectacular roadways, train routes, ferry crossings, and float planes. We can arrange for you to travel by car or to sit back and relax.

When is the best time to see wildlife?

That depends on the destination and type. As a rule, the main feeding and migration seasons are best for wildlife experiences. Tell us which animals interest you and we'll make your trip coincide with the best viewing season.

Will it be cold when I visit Canada in summer?

The temperature varies from mild to hot, depending on location. Canada's west coast, mountain regions, and Maritimes enjoy milder summer temperatures. They range on average from 59°F to 77°F (15°C – 25°C). The interior of British Columbia, prairies, Ontario and Quebec can reach temperatures around 95°F (35°C). Northern Canada will range between 50°F to 64°F (10°C – 18°C) in summer.
This Trip in Pictures
See grizzly bears in the Great Bear Rainforest.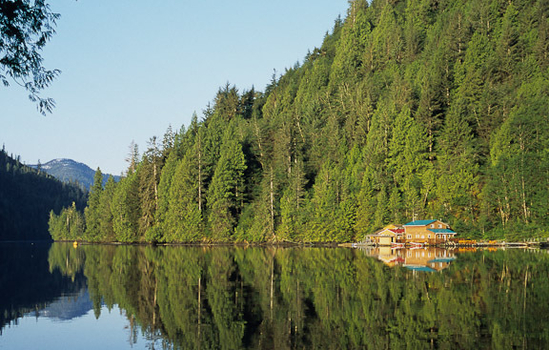 Stay in a cozy floating lodge.
The wilderness is right at your backdoor.
Bear viewing excursions may be by boat or viewing platform, depending on the season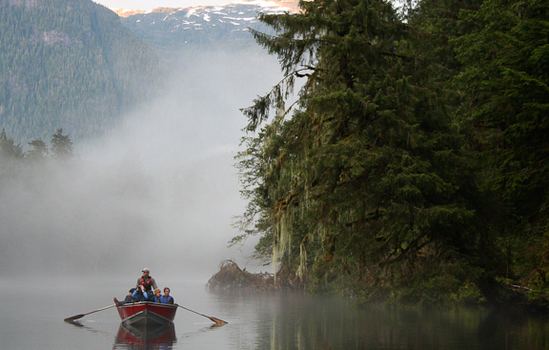 Explore misty channels by boat.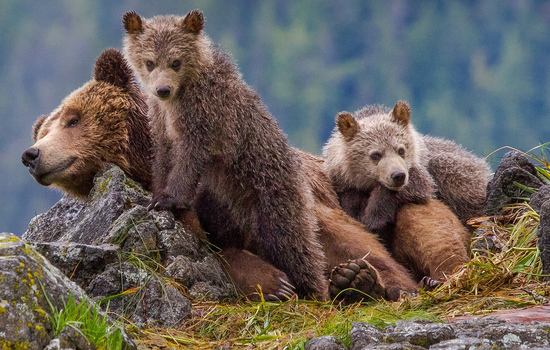 With any luck, you'll see a mother and her young.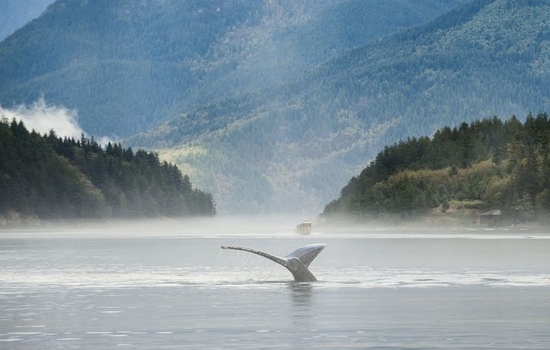 Keep your eyes open for humpback whales.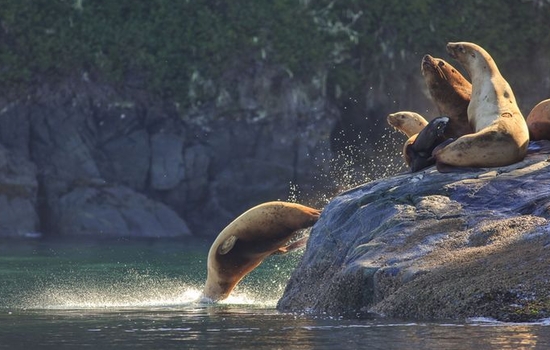 See noisy colonies of sea lions.
Explore Vancouver for a day as part of your trip.
Recommended Itinerary
Think of this itinerary as just a starting point. Our experienced Canadian Insiders will create a personalized trip plan for you that matches your travel style, schedule and budget.
Day 1 – Arrive in Vancouver
Today you arrive in the beautiful coastal city of Vancouver. Surrounded by mountains, ocean and forest, Vancouver is one of a kind. Tonight you settle into a welcoming Vancouver hotel – the comfortable atmosphere, welcoming staff and beautiful views make for a great first night.
Overnight in Vancouver.
Day 2 – Explore Vancouver
You have 3 activity options to choose from today in Vancouver:
• Option 1: Vancouver Food Tour
Discover Gastown's best eating and drinking establishments. Savour gastronomic delights and learn about the neighbourhood's storied past. Experience some of Vancouver's hottest restaurants that local foodies adore.
Activity rating: Easy
• Option 2: Mountain Adventure Tour
Enjoy an amazing tour to the temperate rainforest of Vancouver's North Shore. This is a full-day excursion into the stunning nature that surrounds the city, with stops including the Capilano Suspension Bridge, Grouse Mountain and the Capilano Salmon Hatchery.
Activity rating: Easy
• Option 3: Vancouver Cycle Tour
Following Vancouver's extensive cycle lane network, this cycle tour highlights the best of Vancouver food, history, and culture. Visit the Stanley Park seawall, savour a snack at Granville Island Public Market and see historic Gastown and Chinatown. Choose from a regular pedal or electric bike. Activity rating: Moderate
Overnight in Vancouver.
Day 3 – Vancouver to Port Hardy
This morning you will be taken by private transfer to Vancouver Airport's South Terminal for your flight to Port Hardy. Enjoy the bird's eye view of British Columbia's rugged coast line on your journey to the northern tip of Vancouver Island. Upon arrival make your way to your Port Hardy hotel. Be sure to get lots of rest, tomorrow your Great Bear Lodge experience begins.
Overnight in Port Hardy.
Day 4 – Port Hardy to Great Bear Lodge
Leave the noise and distractions of modern life behind, today you welcome the relaxation and silence of the remote wilderness. Your friendly guide meets you to assist with your transfer to the Great Bear Lodge. Board your seaplane for your first adventure – the views of Queen Charlotte Strait and the central coast are breathtaking. Your friendly hosts are waiting to welcome you to the lodge and show you to your private room. In the late afternoon your first wildlife viewing session begins. It's nearly impossible to describe seeing your first grizzly bear – breathtaking, thrilling and humbling all in one moment. This evening you're served a fresh gourmet meal prepared with the best local produce and seafood available – enjoy complimentary wine or beer with your meal. Learn where the grizzly bear fits into the local ecosystem before relaxing by the fire and enjoying the sounds of the forest.
Overnight at the Great Bear Lodge.
Days 5 to 6 – Great Bear Lodge
The Great Bear Lodge promotes low-impact eco-tourism by using wind and solar power, taking special care not to disturb the bears or their environment. Scheduled morning and afternoon bear viewing sessions coincide with times when the bears are the most active. Accompanied by an experienced wildlife biologist, observe bears roaming freely in their natural habitat as you cruise by boat through nearby estuaries or watch from specially designed viewing areas. Keep a close eye for other wildlife such as wolves, otters, bald eagles, black bears, pine martins and mink. Daily guided activities, such as boat cruises and a popular interpretative rainforest walk, are offered between morning and afternoon viewing excursions – and a delicious brunch awaits you back at the lodge.
If you travel in late summer and fall you'll witness the incredible sight of thousands of migrating salmon from a series of enclosed viewing stands along the river. Watch as the grizzlies hunt for fish in preparation for their coming hibernation.
Overnight at the Great Bear Lodge.
Day 7 – Great Bear Lodge to Port Hardy
This morning you go out on your final bear watching session. Be sure to bring your camera along for those last great photos! Return to the lodge for a farewell brunch before boarding your seaplane for your journey back to Port Hardy. Enjoy another evening in this fishing community.
Overnight in Port Hardy.
Day 8 – Port Hardy to Vancouver – Depart with Fond Memories
This morning, return south to Vancouver to connect with your flight home. Much too soon, you leave the clean air and colourful sights of Canada behind as your vacation comes to an end.
Start Dates
2022 Trip Start Dates*
May 4, 7, 10, 13, 16, 19, 22, 25, 28, 31
June 3, 6, 9, 12, 15, 18, 21, 24, 27, 30
July 3, 6, 9, 12, 15, 18, 21, 24, 27, 30
August 2, 5, 8, 11, 14, 17, 20, 23, 26, 29
September 1, 4, 7, 10, 13, 16, 19, 22, 25, 28
October 1, 4, 7, 10, 13
* Call for availability – some dates are sold out
Pricing
Prices of this trip vary by departure date, hotel class and the choice of activities. Request your quote to check availability or to book this trip.
From US $3,780 to US $6,230 per person

On our Wilderness Adventures, you'll enjoy days with experienced naturalist guides, some meals, seamless connections, and accommodations suited to the unique Canadian surroundings.
Accommodations

Accommodations

Below are examples of the places you can stay on this trip. Please get in touch to discuss your options and to check availability.

Great Bear Lodge

What's Included

Customer Reviews (3)

We saw spirit bears

Jack, SA, Australia

" Look what we saw today - spirit bears! "

I always recommend Fresh Tracks to others as you give a fantastic, reliable, exceptional service.

Steph, SA, Australia

" In a 'nut shell' we had another wonderful ,exciting time in Canada and yes we are planning another trip, probably 2016, for the east coast. Looking for another active and eye popping holiday. So glad we did this active tour and we added extra days, it would have been rushed if we had not. We felt we had enough days to fully experience all that was on offer. The itinerary and instructions  were very exact. So helpful as we referred to it every day. We appreciate the effort that was taken to make our holiday happen. Loved all the activities, the best would be the heli-hike, what an experience! Really enjoyed every one. As the rafting was cancelled, we did the horse trek with the 'cowboy and cook out', it was great fun and we would recommend it. We would recommend the Spirit Bear Lodge. Just what we expected and obviously sighting the bears was the icing on the cake. Experiencing the culture of the Kitasoo was a real bonus. Listening to the Elders, who were also guides and skippers, singing in the main dining room on a stormy day was ever so special. We had a few 'hick ups' and thanks to Sarah they were fixed quickly. Our lake view room at Lake Louise was just breath taking and thanks to all for fixing out that problem with the accommodation. We have so many precious memories of our holiday, too many to mention, and I would like to say a special thank you to you and  Sarah for making it all happen. When I have the opportunity  to do so, I always recommend Fresh Tracks to others as you give a fantastic, reliable, exceptional service. "

Out of this world

Margaret, UK

" We have returned from our vacation having had a most fantastic time. Everything worked well and the hotels got better and better as the trip went on. Knight Landing was literally out of this world. Thanks to you for advising us and arranging the trip so effectively. "
Get your personalized trip plan organized and arranged for you
Get a trip that covers everything you want to see.
Know which places to go and which areas are best during certain times of the year.
Have someone local who knows the area to suggest trains, hotels, dining, sightseeing, etc.