Lords of the Wilderness Bear Viewing
starting fromUS $11,790per person
5 of 5 stars (1 review)
Choose your own activities and experiences to make the most of your trip.
Have all the details of your trip organized and arranged for you.
Go Bear Watching In Churchill And The Great Bear Rainforest
Only available for a short time period each year, witness both polar bears and grizzly bears in their natural habitat while traveling across Canada on VIA Rail's Canadian train. From the lush and abundant Great Bear Rainforest, to the barren arctic tundra of Churchill – no safari better represents Canada's immense diversity. Space is very limited, so be sure to book early!
What you'll love about this trip
Seeing grizzly bears in the Great Bear Rainforest

Remote wilderness lodge experience

Sleeping onboard the iconic VIA Rail 'Canadian Train'

Seeing Churchill's polar bears up close from a Tundra Buggy
Common Questions
Is this an escorted tour?

Our vacations are not typically 'escorted.' We combine the best of both worlds – the reassurance of seamless connections, customer service support, and scheduled activities, plus the freedom of 'independent' travel. You are not tied into a specific group, or a rigid daily itinerary. This allows us to personalize your trip to suit your occasion, interests, and timeframe.

Can this trip be made shorter or longer?

Absolutely! We personalize all our clients' trips to fit their exact tastes and needs. You can add days at locations that you'd like to explore and spend more time at. Or leave out certain areas that don't interest you as much. Discuss your travel goals with our Canadian Insiders who make sure that your trip fits your needs and budget.

Can I customize this trip?

Your trip can be as rich as you'd like, and completely arranged around your interests and needs. The greatest benefit of working with us is our local knowledge. You can get your FREE personalized trip plan and decide what you'd like to see and do.

If your trip is a special occasion, we'll make sure it is unforgettable. Or if you're traveling with a group, we'll take care of the logistics so you can share time together stress-free.

Am I on the train the whole time?

All of our trips include stops to get off the train to explore Canada's beautiful locations, national parks and unique cities. However, if you're keen to maximize your time onboard, we'll pair you up with the perfect train experience.

Where am I staying on this trip?

This trip features an overnight rail journey, and you'll get a comfortable private cabin on the train for the duration of your train ride. The trains feature common lounge areas and dining cars where you can socialize with fellow travelers.

When not on the train, you'll be staying at various three to five star hotels or lodges along your route. All our accommodations are carefully selected by our Canadian Insiders. We'll make sure that wherever you stay, you get the best value and comfort based on the seasonal availability.

What is the train experience like?

Because most Canadians typically do not use the train for commuting (as in the US or Europe), the two main rail providers here are driven by tourism. You'll experience the romance of true trans-continental rail travel, with a wide selection of services, accommodation types, and great food.

Featured train experiences:

VIA Rail is Canada's national train provider, with routes running Coast to Coast and through remote parts of northern Canada. The type of train depends on your journey, and can vary from the classic trans-continental sleeper trains to daylight trains with overnight stops.

Sleeper Trains feature a once in a lifetime adventure of sleeping on the train in comfortable cabins. You can relax in your private onboard accommodations, or enjoy local wines and chef-prepared meals in the dining car during this unforgettable trip.

How much does my trip cost?

All our trips are personalized to fit our clients' schedule and budget. The price of your trip generally depends on the travel season, train service, accommodations, and the sightseeing tours you take. Please request your personalized quote which will provide you with the detailed information you need.

What is included in the price?

Typically we include and pre-book all your main trip components so you don't have to worry about your connections, places to stay, or activities on your trip. You'll receive your detailed digital travel documents, and our Canadian Insiders remain at your disposal throughout your trip to answer any questions.

What are the best ways to travel around Canada?

Canada has a network of spectacular roadways, train routes, ferry crossings, and float planes. We can arrange for you to travel by car or to sit back and relax.

When is the best time to see wildlife?

That depends on the destination and type. As a rule, the main feeding and migration seasons are best for wildlife experiences. Tell us which animals interest you and we'll make your trip coincide with the best viewing season.
This Trip in Pictures
This is our ultimate 'bear' viewing journey in Canada - and possibly North America's best safari!
On the west coast of British Columbia in the Fall, salmon return to spawn…
Attracting predators like Grizzly Bears, Bald Eagles and Orca (Killer) Whales…
As well as studying Grizzlies up close, you'll get out on the ocean with the whales…
An aerial view of the lodge we use for observing the Grizzlies.
Settle into a comfortable seat on the 'Canadian' train as it carries you across the country.
Travel through the wide open spaces and dramatic skies of the Canadian prairie provinces.
Then as a wonderful comparison, you'll travel north into a very different world.
Here, on the edge of Hudson Bay, you'll go on safari in a 'Tundra Buggy'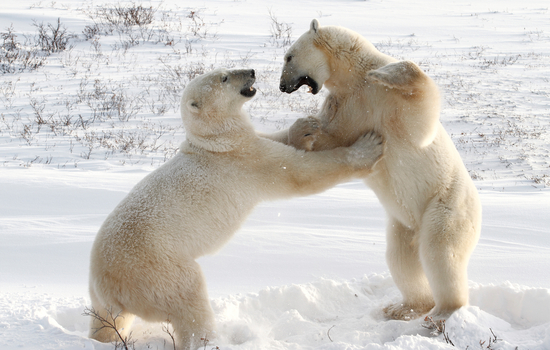 And learn if this is play or fighting - from an expert naturalist.
You can also try dogsledding - and learn about the life of a sled-dog...
Recommended Itinerary
Think of this itinerary as just a starting point. Our experienced Canadian Insiders will create a personalized trip plan for you that matches your travel style, schedule and budget.
Day 1 – Arrive in Vancouver
Arrive in Vancouver and spend the night at the airport in preparation for tomorrow's flight to Campbell River.
Overnight at a Vancouver Airport hotel.
Day 2 – Fly to Campbell River
This morning fly to Campbell River on Vancouver Island where you will be transferred to a hotel for the night. The remainder of the day is yours to explore the "Salmon Fishing Capital of the World". Today is the day to make sure you have all your camera accessories, memory cards, and batteries ready to go for your adventure tomorrow.
Overnight in Campbell River.
Day 3 – Float Plane to the Great Bear Rainforest
A spectacular float plane ride takes you to Knight Inlet Lodge this morning. The flight takes roughly 30 minutes and is sure to be one of your trip's highlights.
A cozy floating wilderness retreat, Knight Inlet Lodge is located in the heart of the Great Bear Rainforest in secluded Glendale Cove. It has one of the highest concentrations of Grizzly Bears in North America – sometimes it's possible to see them right from the lodge's dock.
In the fall, the normally solitary grizzly bears congregate along rivers to feed on migrating salmon. You'll watch the bears from a specially designed viewing platform, giving you rare photographic opportunities and a chance to immerse yourself into their natural habitat. Although bear sightings can vary, it is not uncommon for there to be up to 40 bears within 6 miles of the lodge at this time of year. Enjoy a delicious dinner tonight with new companions and an evening presentation by one of your guides.
Overnight at Knight Inlet Lodge.
Day 4 – Grizzly Bear Viewing at Knight Inlet Lodge
Head out for another day of adventure. Glacier-fed waterfalls, old-growth forests thick with moss, and snowcapped mountains are your backdrop as you explore the secluded coves and inlets around Glendale Cove. Additional activity options include kayaking, hiking, or a scenic boat tour of Knight Inlet
Overnight at Knight Inlet Lodge.
Day 5 – Knight Inlet Lodge/Campbell River to Vancouver
Get up early to soak in the fresh wilderness air, perhaps spotting a soaring bald eagle or two as you sip your coffee. Today you fly back to Campbell River and then onwards to Vancouver. Spend the rest of the day enjoying the sights and sounds of the city.
Overnight in Vancouver.
Day 6 – Discover Vancouver
Spend the day exploring Vancouver. Ask us to arrange an activity for you – walking tours, bike tours, food tours, and nature tours are available to suit all interests. Or, simply stroll the sea wall and sip coffee at English Bay, admiring Vancouver's legendary harbour and mountain views.
Overnight in Vancouver.
Day 7 – Board VIA Rail's Canadian Train
Enjoy exploring Vancouver at leisure today before boarding the train across Canada. This is the first day of your overnight rail journey to the Canadian Rockies. The excitement builds as the train leaves Vancouver. The 'Canadian' is Canada's most famous train, the route links Vancouver and Jasper using original steel rail cars from the 1950's and Vancouver to Jasper is the most spectacular stretch of the whole journey.
Overnight on board the train in your private cabin.
Day 8 – VIA Rail's Canadian Rail Journey Continues
Enjoy a full day of sights from your picture window as your train continues towards Winnipeg. Marvel at the snowcapped mountain peaks as the train weaves through the Canadian Rockies. Watch for bears, deer, elk or moose – you never know when you might spot one.
Overnight on board the train in a private cabin.
Day 9 – VIA Rail's Canadian Train – Arrival in Winnipeg
The scenery changes as you travel across the undulating plain of the Prairie Provinces. Settle into your seat and enjoy watching the sights from your window. Arrive in Winnipeg late this evening.
Known as the "Cultural Cradle of Canada," Winnipeg is home to Canada's Royal Winnipeg Ballet, the Royal Manitoba Theatre Centre, Winnipeg Symphony Orchestra and so much more.
Overnight in Winnipeg.
Day 10 – Experience Winnipeg
The day is yours to explore Winnipeg. Visit the Forks – Winnipeg's gathering place with nine acres of activity, restaurants, shopping and interactive fun. A visit to the Assiniboine Park Zoo has also been included today.
• Included: Assiniboine Park Zoo Admission
Located in Winnipeg's beautiful Assiniboine Park, the zoo is home to over 150 species from around the world. The Journey to Churchill exhibit is a definite highlight as the home to polar bears, muskoxen, Arctic fox, wolves and other northern species.
Activity rating: Easy
This evening at the hotel, you will meet other participants on your Polar Bear tour and learn about adventures to come.
Day 11 – Winnipeg to Churchill
Early this morning board your plane for a flight from Winnipeg to Churchill. Journey over the tundra and plains of the north – the bird's eye view is spectacular!
Upon arrival drive past various points of interest in and surrounding Churchill on an interpretive tour. You'll have a chance to photograph the Polar Bear Holding facility amongst other highlights. Included is a visit to Polar Bears International House to learn about ongoing polar bear research as well as the Parks Canada Interpretive Centre, where you'll learn more about the history and wildlife of Churchill.
Overnight in a Churchill hotel.
Day 12 – Polar Bear Viewing
Why is Churchill known as the Polar Bear Capital of the World? Well, because large numbers of the bears congregate near town each fall while they wait for the ice to form on Hudson Bay.
This morning you'll board a specially designed Tundra Buggy and journey into the Churchill Wildlife Management Area for your first chance to see polar bears in the wild. Since the number of visitors to the CWMA is highly restricted, your chances of seeing the bears up close is excellent. This is prime polar bear habitat! Your knowledgeable guide will provide insights along way.
This evening at a Cultural Presentation, you'll learn what it's like to live in the northern reaches of Canada through the stories of a Churchill resident, such as a local trapper.
Overnight in Churchill.
Day 13 – Dog Sledding and Itsanitaq Museum
Set off on an exciting dog sledding excursion today. Meet a local musher and hear his incredible tales of Arctic racing, then meet his pack of sled dogs. After a thorough briefing, feel the exhilaration of racing a team through the boreal forest on a one-mile groomed trail. This excursion is designed for guests of all abilities.
Later today, visit the Itsanitaq Museum. The museum's a collection of Inuit carvings and artifacts are among the finest in the world. This is also a great place to stock up on unique, locally crafted souvenirs.
Overnight in Churchill.
Day 14 – Polar Bear Viewing and Return to Winnipeg
Enjoy another extraordinary day exploring the Churchill Wildlife Management Area onboard a Tundra Buggy. As well as capturing incredible, up-close photographs of polar bears, you'll likely see other wildlife such as arctic fox, ptarmigan, and snowy owl. When you arrive back in Churchill, you will be transferred to the airport for your flight back to Winnipeg.
Overnight in Winnipeg.
Day 15 – Depart with Fond Memories
Your Canada vacation ends as you check-out from your hotel this morning and depart Winnipeg.
Start Dates
2022 Dates starting in Vancouver
September 24
October 8, 11
Pricing
Prices of this trip vary by departure date, hotel class and the choice of activities. Request your quote to check availability or to book this trip.
Canadian Bear Viewing Adventure

From US $11,790 to US $13,710 per person

On our Wilderness Adventures, you'll enjoy days with experienced naturalist guides, some meals, seamless connections, and accommodations suited to the unique Canadian surroundings.
Train Experience

Train Experience

Learn more about the onboard service and look inside the trains you will be traveling on during this trip.

VIA Rail

VIA Rail trains take passengers across the vast country of Canada through some of the most amazing scenery in North America. The service includes sleeper cars, gourmet meals, and lounge and viewing areas.

Sleeping on the train

Experience a once in a lifetime adventure of an overnight train journey. Sleep on board the train and enjoy chef-prepared meals in the dining car during this unforgettable trip.

Accommodations

Accommodations

In addition to the sleeper train cabin, below are examples of the places you can stay on this trip. Please get in touch to discuss your options and to check availability.

Knight Inlet Lodge

Four Points By Sheraton Winnipeg

Conveniently located adjacent to the Winnipeg International Airport, Four Points by Sheraton offers a number of complimentary amenities that will make your stay as comfortable as home. Enjoy free coffee and bottled water, high speed internet and a 24 hour fitness center.

Tundra Inn

The Tundra Inn is a charming, family run hotel located in the northern town of Churchill. With comfortable, spacious accommodation and complimentary amenities, this is the perfect place to relax before or after your arctic adventure. Your stay includes continental breakfast, free tea and coffee and high-speed internet.

What's Included

Customer Reviews (1)

The venues for the Grizzly Bears and Polar Bears was awesome

Pam & Steve, GA, USA

" Our trip was very well coordinated. The venues for the Grizzly Bears and Polar Bears was awesome. "
Get your personalized trip plan organized and arranged for you
Get a trip that covers everything you want to see.
Know which places to go and which areas are best during certain times of the year.
Have someone local who knows the area to suggest trains, hotels, dining, sightseeing, etc.