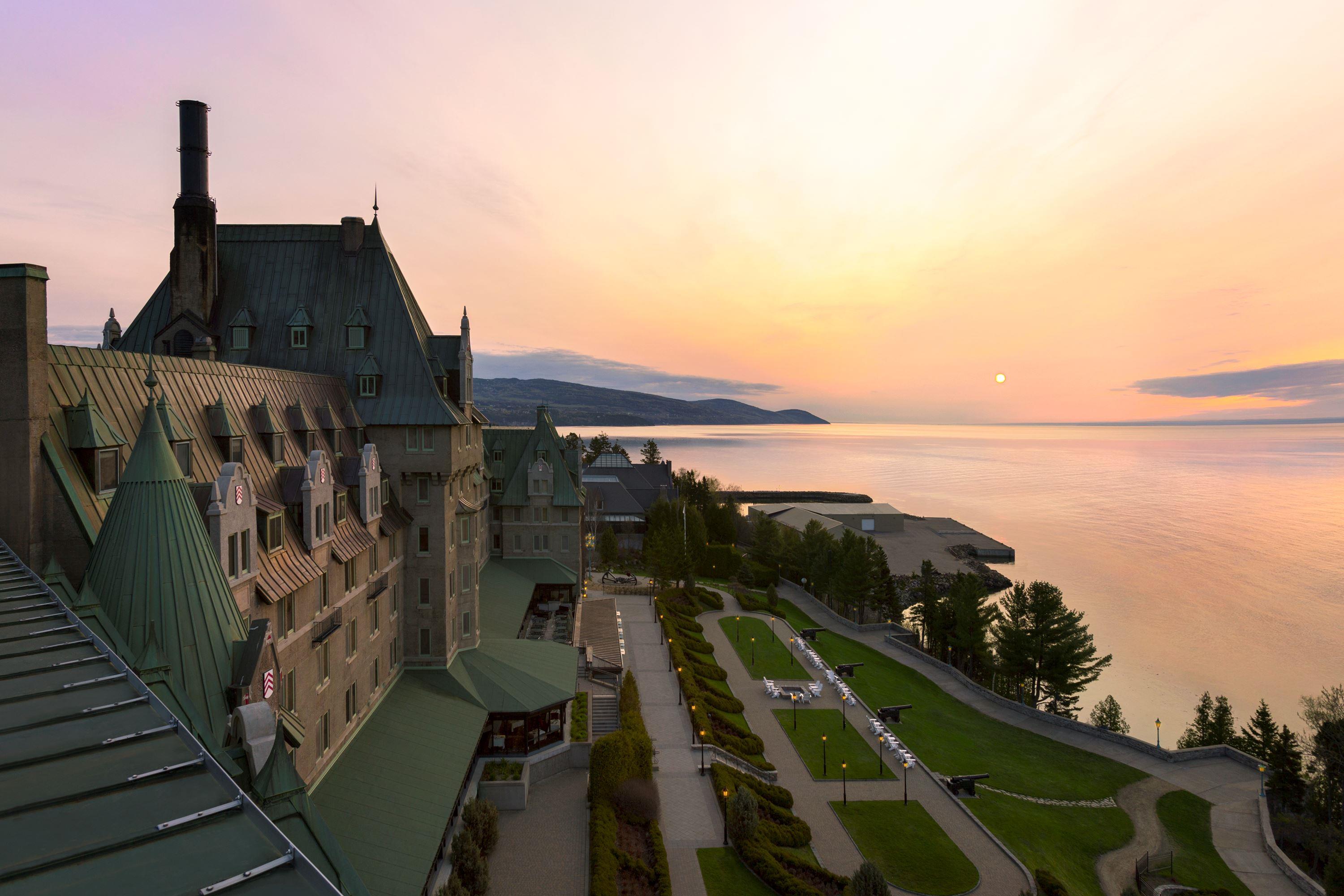 starting fromUS $1,850per person
Choose your own activities and experiences to make the most of your trip.
Have all the details of your trip organized and arranged for you.
Featuring Fairmont Tremblant and Fairmont Le Manoir Richelieu
Base yourself from two spectacular Fairmont resorts on this 8 day vacation. Firstly, stay at the Fairmont Tremblant in the heart of Mont-Tremblant village. Enjoy guided adventures suited to your activity level, such as hiking, biking, canoeing, boat tours and more. Then journey to the Charlevoix region to stay at Fairmont Le Manoir Richelieu. View whales on the St. Lawrence River, then journey into the heart of Hautes-Gorges-de-la- Rivière-Malbaie National Park on a riverboat cruise.
What you'll love about this trip
Stay at Fairmont Tremblant and Fairmont Manoir Richelieu

Guided hiking, biking, pontoon boat tour and more in Mont-Tremblant

Whale watching on the St. Lawrence River

Hautes-Gorges-de-la- Rivière-Malbaie National Park

Spectacular scenery and charming towns
Common Questions
Is this an escorted tour?

Our vacations are not typically 'escorted.' We combine the best of both worlds – the reassurance of seamless connections, customer service support, and scheduled activities, plus the freedom of 'independent' travel. You are not tied into a specific group, or a rigid daily itinerary. This allows us to personalize your trip to suit your occasion, interests, and timeframe.

Can this trip be made shorter or longer?

Absolutely! We personalize all our clients' trips to fit their exact tastes and needs. You can add days at locations that you'd like to explore and spend more time at. Or leave out certain areas that don't interest you as much. Discuss your travel goals with our Canadian Insiders who make sure that your trip fits your needs and budget.

Can I customize this trip?

Your trip can be as rich as you'd like, and completely arranged around your interests and needs. The greatest benefit of working with us is our local knowledge. You can get your FREE personalized trip plan and decide what you'd like to see and do.

If your trip is a special occasion, we'll make sure it is unforgettable. Or if you're traveling with a group, we'll take care of the logistics so you can share time together stress-free.

Is it safe to drive in Canada?

New visitors will drive with ease because of the wide and well maintained roadways. We'll ensure your trip includes the most spectacular and safest routes throughout your trip.

Where am I staying on this trip?

You'll be staying at various local three to five star hotels or lodges along your route, some of which are very iconic properties with great locations, views and history. All our accommodations are carefully selected by our Canadian Insiders. We'll make sure that wherever you stay, you get the best value and comfort based on the seasonal availability.

How much does my trip cost?

All our trips are personalized to fit our clients' schedule and budget. The price of your trip generally depends on the travel season, train service, accommodations, and the sightseeing tours you take. Please request your personalized quote which will provide you with the detailed information you need.

What is included in the price?

Typically we include and pre-book all your main trip components so you don't have to worry about your connections, places to stay, or activities on your trip. You'll receive your detailed digital travel documents, and our Canadian Insiders remain at your disposal throughout your trip to answer any questions.

What are the best ways to travel around Canada?

Canada has a network of spectacular roadways, train routes, ferry crossings, and float planes. We can arrange for you to travel by car or to sit back and relax.

When is the best time to see wildlife?

That depends on the destination and type. As a rule, the main feeding and migration seasons are best for wildlife experiences. Tell us which animals interest you and we'll make your trip coincide with the best viewing season.

Will it be cold when I visit Canada in summer?

The temperature varies from mild to hot, depending on location. Canada's west coast, mountain regions, and Maritimes enjoy milder summer temperatures. They range on average from 59°F to 77°F (15°C – 25°C). The interior of British Columbia, prairies, Ontario and Quebec can reach temperatures around 95°F (35°C). Northern Canada will range between 50°F to 64°F (10°C – 18°C) in summer.
This Trip in Pictures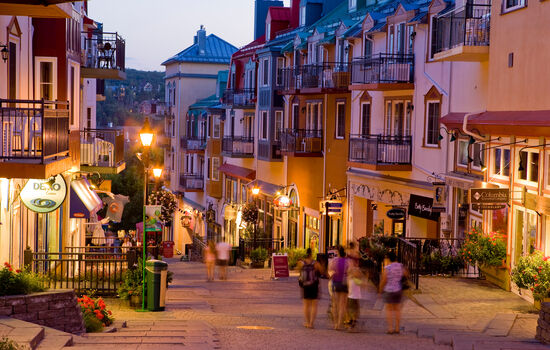 Feel the summer buzz in Mont-Tremblant's pedestrian village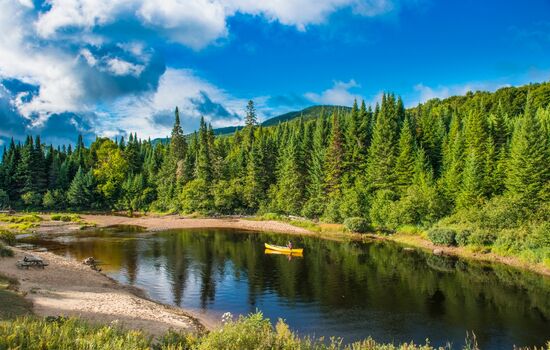 Paddle the Diable River in a canoe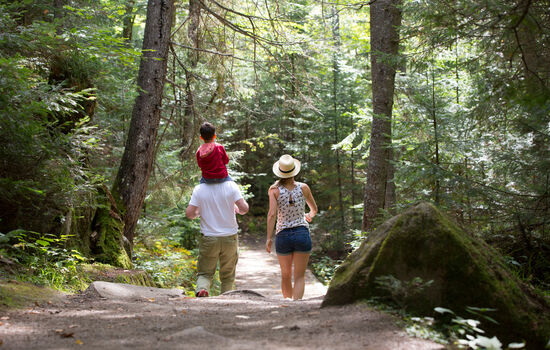 Explore the trails with a private hiking guide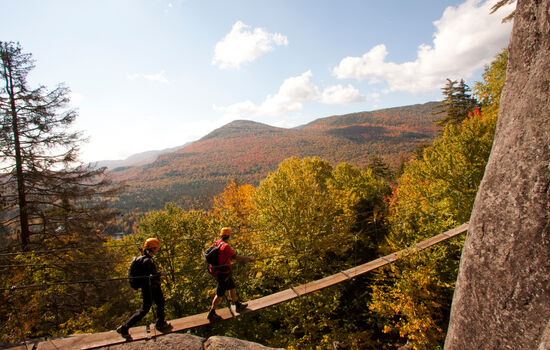 Try a Via Ferrata course for beginners in Mont-Tremblant National Park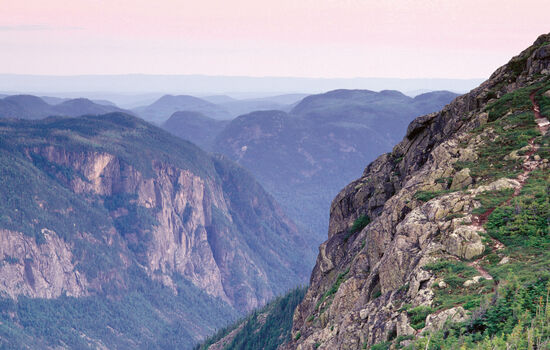 Visit Hautes-Gorges-de-la- Rivière-Malbaie National Park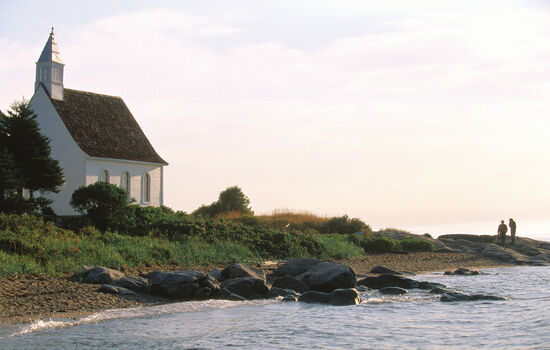 Visit picturesque towns in the Charlevoix region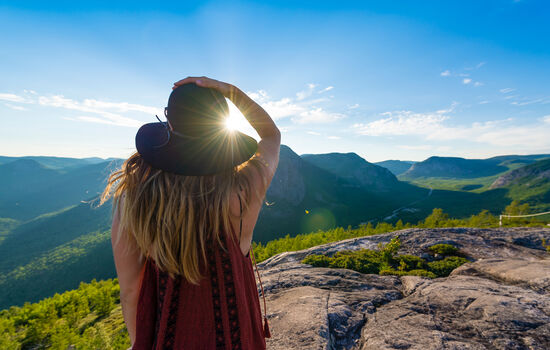 Feel miles away as you explore the wilderness of Quebec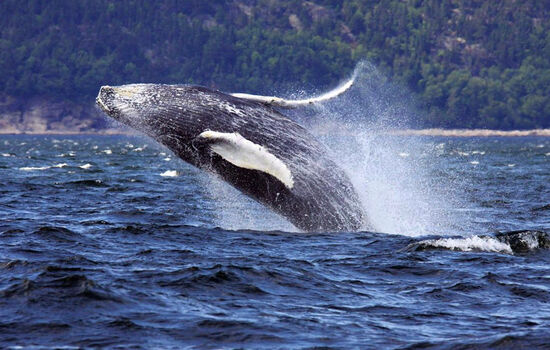 See whales on the St. Lawrence River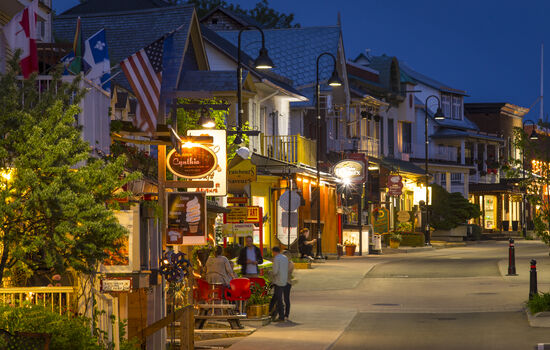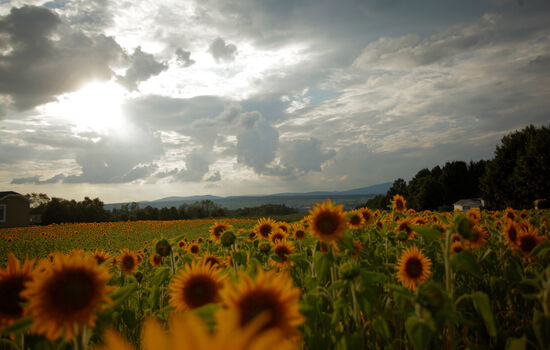 Enjoy scenic drives through the countryside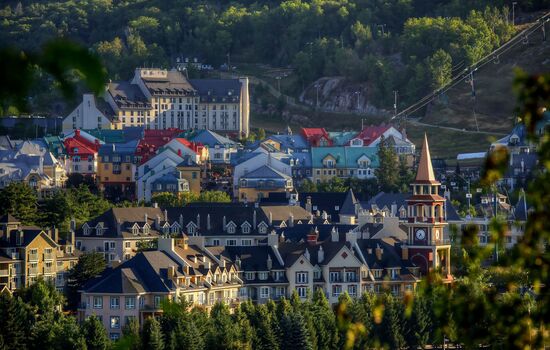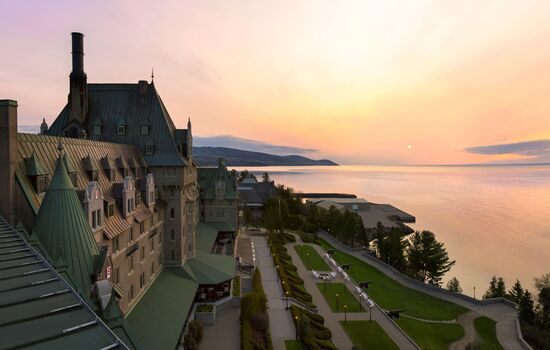 Fairmont Le Manoir Richelieu
Recommended Itinerary
Think of this itinerary as just a starting point. Our experienced Canadian Insiders will create a personalized trip plan for you that matches your travel style, schedule and budget.
Day 1 – Drive to Mont Tremblant
This morning pick up your rental car and begin your journey to Tremblant resort. A picture-perfect blend of small villages and nature pass by as you enter the gently rolling Laurentian Mountains.
Arrive at Tremblant resort – a bustling mountain resort set against Lac Tremblant and close to a nearby Mont Tremblant National Park featuring abundant lakes, rivers, and wildlife.
Head out on foot into the charming European-style pedestrian village and savor the summer buzz. Explore the boutiques, restaurants, art galleries as the smell of fudge wafts in the air. We recommend dinner at local favorite La Savoie, Italian-themed Coco Pazzo, or Microbrasserie La Diable for authentic Quebec microbrews.
Overnight at Fairmont Tremblant.
Day 2 – Tremblant Adventures
Activity options at Tremblant are endless – from hiking, biking, and Via Ferrata in the nearby National Park, to in-resort activities such as luge and ziplining! We recommend you choose one of the following three options today:
• Option 1: Privately Guided Hike
A personal guide will take you on one of the area's premium hiking trails to suit your ability. For those wanting a more laid-back experience, we recommend Domaine-Saint-Bernard, an spectacular ecotourism park with unique flora and fauna. For a more challenging experience, choose Green Mountain for breathtaking views of Mont Tremblant and its lake.
• Option 2: Via Ferrata Adventure
Explore a beginner's circuit where you'll make your way along a rock wall, safely and at your own pace. At a height of 200 metres you'll cross two beams and a walkway overlooking sinuous Rivière du Diable.
• Option 3: Canoe paddle
Take a self-guided canoe paddle along the Diable River, between Chat Lake and Mont de la Vache Noire. See the spectacular rock wall of the Vache Noire, a silver maple forest, and take a break along sandy shores to bask in the sun and enjoy lunch.
Overnight at Fairmont Tremblant.
Day 3 – Tremblant Adventures
Spend another day in Tremblant's spectacular nature. Choose from the following two activity options:
• Option 1: Private Pontoon Boat Tour
Sail across beuatiful Lac Tremblant onboard a pontoon boat. Relax and enjoy the company of your knowledgeable captain. Bring along a bottle of wine if you wish!
• Option 2: Private Bike Tour
Soak in Tremblant's local culture, history, and scenery on a guided bike tour. Ride a fun and hilly circuit through the wilderness – your guide will ensure you ride the best trails and make the best of your time.
Included this evening: Take a breathtaking sensory journey along the illuminated 1.5 km Tonga Lumina Trail. After a ride up the Flying Mile chairlift, wind your way through the forest, crisscrossing streams and clearings to a magical, multisensory lightshow.
Overnight at Fairmont Tremblant.
Day 4 – Tremblant
Spend another day exploring Tremblant resort. Sign up for more activities, or hunt through the shops and boutiques for unique souvenirs. Included in your trip is admission to the Panoramic Gondola to take you up the highest peak in the Laurentians. Enjoy interpretive nature trails or head out for a more challenging hike.
Overnight at Fairmont Tremblant.
Day 5 – Tremblant to La Malbaie
Leave Tremblant and drive north along the St. Lawrence River to La Malbaie. Stop for lunch in historic Trois Rivieres, then skirt around Quebec City to join scenic Highway 138. Pass by the famous Sainte-Anne-de-Beaupré shrine, and soon you'll be in the heart of Charlevoix with its picturesque towns, villages, and farms backed by rugged mountains on one side and the Saint Lawrence River on the other.
Arrive in La Malbaie, home to one of Canada's grand historic railway hotels, the Fairmont Manoir Richelieu. Nestled between sea and the mountains on a cliff overlooking the St. Lawrence River, this 5-star resort offers golf, indoor and outdoor pools, and a multitude of other outdoor activities. Now you've arrived, kick back and relax with a drink on the terrace, watching for whales in the distance.
Overnight at Fairmont Manoir Richelieu.
Day 6 – Whale Watching on the St. Lawrence
Explore Charlevoix this morning. In the town of La Malbaie, you can visit the fascinating museum of Charlevoix then take a walk along the waterfront at Pointe au Pic, an area of colorful renovated historic wooden houses. Or head further afield to visit the artisan shops at the hamlet of Port-au-Persil, ranked as one of Quebec's most scenic villages.
This afternoon set out to search for whales in the confluence of the St. Lawrence River and the Saguenay Fjord. This area is rich in food for marine mammals and is considered one of the best whale watching sites in the world. Keep your eyes open for minke, humpback, fin, blue, and beluga whales.
Overnight at Fairmont Manoir Richelieu.
Day 7 – Explore Hautes-Gorges-de-la- Rivière-Malbaie National Park
Hautes-Gorges-de-la- Rivière-Malbaie National Park is a must-see on your visit to the Charlevoix region. This spectacular park, at the heart of the Charlevoix Biosphere World Reserve, takes its name from the network of deeply cut valleys in a setting of high mountains. Enjoy a 1.5-hour cruise up La Malbaie River this afternoon, narrated by a park guide.
Today we also recommend you visit nearby Baie-Saint-Paul – a bohemian town where you can pass the day exploring art galleries, cafes, and colourful, centuries-old buildings. Alternately, grab a map of the Charlevoix's famous 'Flavour Trail' and sample local ciders, traditionally made beers, cheeses, chocolates, organic meat, and bread – all made fresh from the farm. Or take a ferry and visit nearby Ile Aux Coudres, with its small historic chapels and farm-to-table eateries.
Overnight at Fairmont Manoir Richelieu.
Day 8 – Depart from Charlevoix
All too soon your summer adventure comes to an end. Check out of your hotel and make your way home. Drop your car rental in your home city.
Start Dates
2020 – Trip Start Dates
Daily from August to mid October*
2021 – Trip Start Dates
Daily from late May to mid October*
*Note:
• Some activities run on certain days, or at certain times during the season
Pricing
Prices of this trip vary by departure date, hotel class and the choice of activities. Request your quote to check availability or to book this trip.
From US $1,850 to US $2,000 per person
Accommodations

Accommodations

Below are examples of the places you can stay on this trip. Please get in touch to discuss your options and to check availability.

Fairmont Tremblant

Fairmont Le Manoir Richelieu

Located on the shores of the St. Lawrence River in the picturesque Charlevoix region of Quebec, Fairmont Le Manoir Richelieu features three restaurants, a casino, a skating rink, and an award winning 18-hole golf course. After a day of outdoor adventures – from snowmobiling and skiing in winter to whale watching and river cruises in summer – return to the hotel and go for a swim or listen to the relaxing sounds of the resident pianist in the lobby.

What's Included
Get your personalized trip plan organized and arranged for you
Get a trip that covers everything you want to see.
Know which places to go and which areas are best during certain times of the year.
Have someone local who knows the area to suggest trains, hotels, dining, sightseeing, etc.