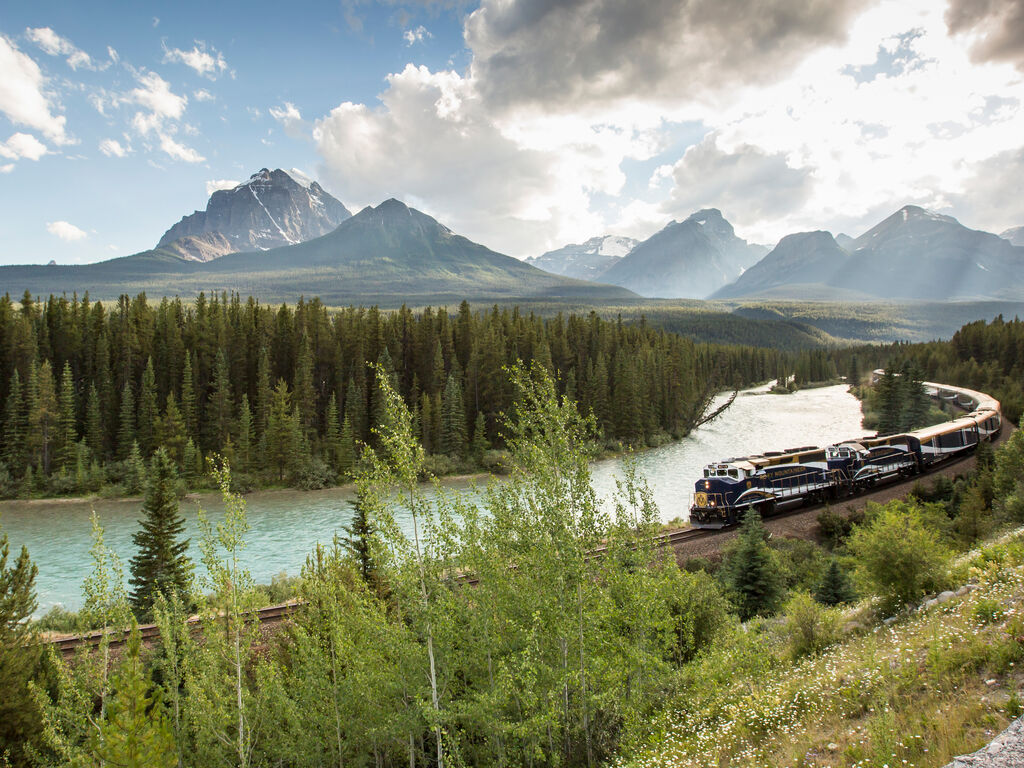 Rocky Mountaineer Rail and Road Vacation
starting fromUS $4,290per person
Choose your own activities and experiences to make the most of your trip.
Have all the details of your trip organized and arranged for you.
The Combined Canadian Rockies Train And Road Trip
The best way to explore the Canadian Rockies! Start your trip off by exploring the Canadian Rockies with the freedom of your own rental car. Enjoy carefully selected activities and hotels in Banff and Jasper National Parks, before boarding the famous Rocky Mountaineer train for a spectacular journey to Vancouver.
What you'll love about this trip
Scenic rail journey on the Rocky Mountaineer

Spending four days exploring Jasper and Banff National Parks

Unique choice of activities personalized to your interests

Seeing glaciers, emerald lakes, forests and wildlife

Endless photo opportunities

Choice of the best Canadian Rockies hotels
Common Questions
Is this an escorted tour?

Our vacations are not typically 'escorted.' We combine the best of both worlds – the reassurance of seamless connections, customer service support, and scheduled activities, plus the freedom of 'independent' travel. You are not tied into a specific group, or a rigid daily itinerary. This allows us to personalize your trip to suit your occasion, interests, and timeframe.

Can this trip be made shorter or longer?

Absolutely! We personalize all our clients' trips to fit their exact tastes and needs. You can add days at locations that you'd like to explore and spend more time at. Or leave out certain areas that don't interest you as much. Discuss your travel goals with our Canadian Insiders who make sure that your trip fits your needs and budget.

Can I customize this trip?

Your trip can be as rich as you'd like, and completely arranged around your interests and needs. The greatest benefit of working with us is our local knowledge. You can get your FREE personalized trip plan and decide what you'd like to see and do.

If your trip is a special occasion, we'll make sure it is unforgettable. Or if you're traveling with a group, we'll take care of the logistics so you can share time together stress-free.

Am I on the train the whole time?

All of our trips include stops to get off the train to explore Canada's beautiful locations, national parks and unique cities. However, if you're keen to maximize your time onboard, we'll pair you up with the perfect train experience.

Is it safe to drive in Canada?

New visitors will drive with ease because of the wide and well maintained roadways. We'll ensure your trip includes the most spectacular and safest routes throughout your trip.

Where am I staying on this trip?

You'll be staying at various local three to five star hotels or lodges along your route, some of which are very iconic properties with great locations, views and history. All our accommodations are carefully selected by our Canadian Insiders. We'll make sure that wherever you stay, you get the best value and comfort based on the seasonal availability.

What is the train experience like?

Because most Canadians typically do not use the train for commuting (as in the US or Europe), the two main rail providers here are driven by tourism. You'll experience the romance of true trans-continental rail travel, with a wide selection of services, accommodation types, and great food.

Featured train experiences:

Rocky Mountaineer operates daylight touring trains, which travel along three of the most spectacular routes in Western Canada. You'll enjoy onboard commentary, award winning service, and incredible food.

How much does my trip cost?

All our trips are personalized to fit our clients' schedule and budget. The price of your trip generally depends on the travel season, train service, accommodations, and the sightseeing tours you take. Please request your personalized quote which will provide you with the detailed information you need.

What is included in the price?

Typically we include and pre-book all your main trip components so you don't have to worry about your connections, places to stay, or activities on your trip. You'll receive your detailed digital travel documents, and our Canadian Insiders remain at your disposal throughout your trip to answer any questions.

What are the best ways to travel around Canada?

Canada has a network of spectacular roadways, train routes, ferry crossings, and float planes. We can arrange for you to travel by car or to sit back and relax.

When is the best time to see wildlife?

That depends on the destination and type. As a rule, the main feeding and migration seasons are best for wildlife experiences. Tell us which animals interest you and we'll make your trip coincide with the best viewing season.

Will it be cold when I visit Canada in summer?

The temperature varies from mild to hot, depending on location. Canada's west coast, mountain regions, and Maritimes enjoy milder summer temperatures. They range on average from 59°F to 77°F (15°C – 25°C). The interior of British Columbia, prairies, Ontario and Quebec can reach temperatures around 95°F (35°C). Northern Canada will range between 50°F to 64°F (10°C – 18°C) in summer.
This Trip in Pictures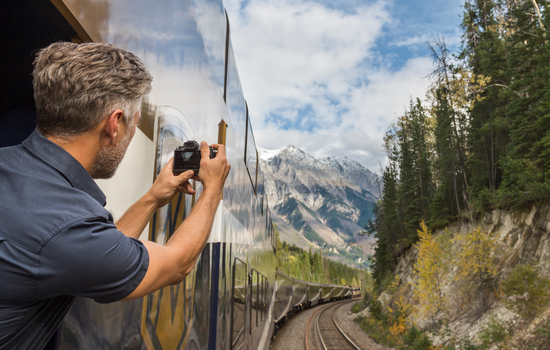 An incredible rail and road vacation
Stay in the bustling mountain town of Banff
Choose from unique activities in Banff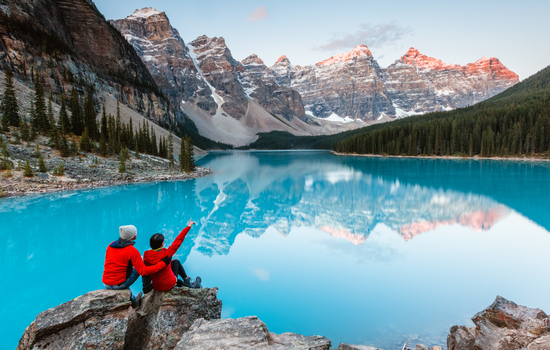 Discover scenic viewpoints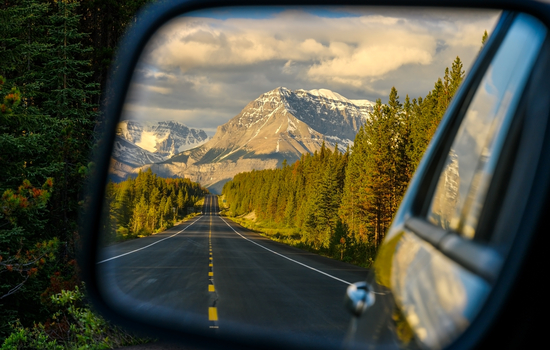 Drive the Icefields Parkway
Stop along the way to experience the Icefields Parkway attractions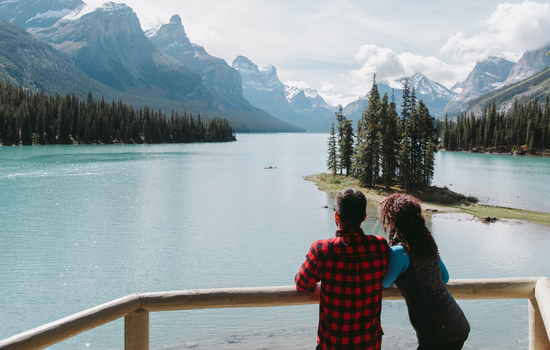 Explore Jasper National Park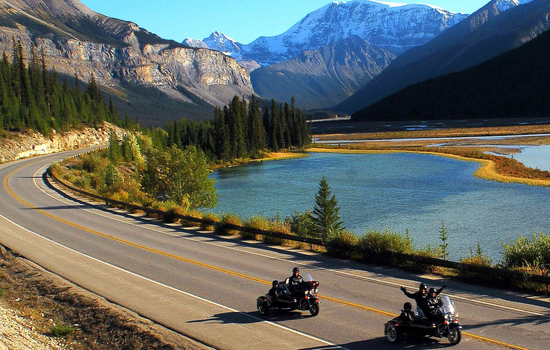 Enjoy guided activities in Jasper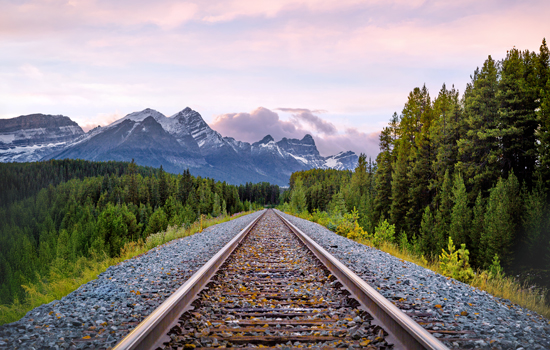 Travel from Jasper to Vancouver by train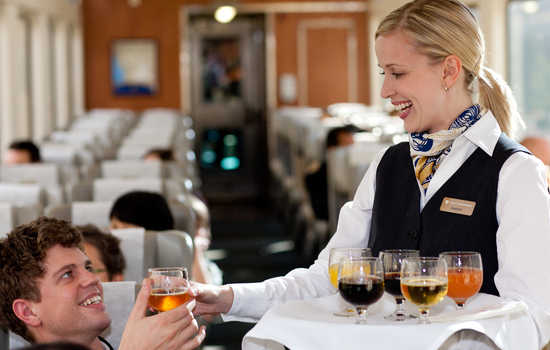 Experience Rocky Mountaineer's legendary hospitality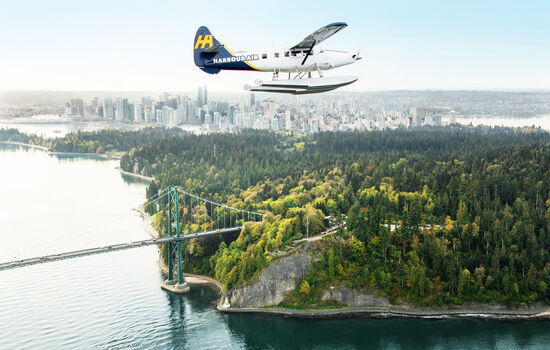 End your trip in coastal Vancouver
Recommended Itinerary
Think of this itinerary as just a starting point. Our experienced Canadian Insiders will create a personalized trip plan for you that matches your travel style, schedule and budget.
Day 1 – Arrive in Calgary
Welcome to Calgary! From the very beginning, your vacation is off to the best start. Pick up your rental car and make the scenic drive through the foothills of the Rocky Mountains. Arrive in Banff – UNESCO World Heritage Site with the charm of a small mountain town. Breathe in the fresh Canadian Rocky Mountain air – you've arrived!
Feature Dinner in Banff
No need to worry about finding a place to eat this evening, we will make sure you are taken care of with a delicious meal at one of our favourite restaurants in Banff.
Overnight in Banff.
Day 2 – Explore Banff
Fill your lungs with cool, fresh Rockies air and head out for a day of exploration.
You have 3 options to choose from today in Banff:
• Option 1: Helicopter Tour
Get ready for an action packed 20 minutes! Soar above Canmore's Three Sisters before escaping into the Spray Valley. See the extraordinary hues of the Spray Lakes before your return flight along the Goat Range and pristine Bow River.
Activity rating: Easy
• Option 2: Banff National Park Guided Hike
Discover one of Banff National Park's best hiking trails with a small group and guide. Hike locations vary by day of the week and feature iconic Sunshine Meadows, Plain of Six Glaciers, or Larch Valley. Hiking difficulty varies, so be sure to speak with your vacation advisor to choose the best experience. Hotel pick up and lunch are included.
Activity rating: Moderate to Challenging
• Option 3: Cowboy Cookout Experience
Enjoy the fresh mountain air and real cowboy hospitality, with a morning ride along the base of Sulphur Mountain to a freshly prepared BBQ served up at the 3 Mile Cabin. Choose to ride your own horse, or opt to ride in a traditional covered wagon.
Activity rating: Easy
Insider tip: There is so much to see and do in Banff that many guests wish they could stay longer. Ask your Vacation Advisor about adding more nights in the Rockies to explore Banff and try activities such as a private sunrise photography tour with an experienced photographer.
Overnight in Banff.
Day 3 – The Icefields Parkway – Banff to Jasper
In your car, travel along the spine of the Rockies on what is surely one of the most beautiful drives in the world – the Icefields Parkway.
Here are 2 options to explore the Icefields Parkway:
• Option 1: Columbia Icefield Glacier Adventure &  Glacier Skywalk Admission
Your adventure begins with a ride onto the surface of the Athabasca Glacier in the all-terrain Ice Explorer – a vehicle specially designed for glacier travel. Your tour includes a stop on the glacier, where you can step onto the ice and fill your water bottle with fresh glacier water. Your package includes the jaw-dropping walk along the glass-floored Glacier Skywalk at the cliff's edge. Experience waterfalls, wildlife, fossils and more on this exciting 1-kilometre cliff-edged walkway that leads to a platform where glass is all that separates you from a 918-foot drop.
Activity rating: Easy
• Option 2: Guided Icewalk on the Columbia Icefields
Hike along the largest mass of ice in the Rocky Mountains – the Columbia Icefields. The most accessible part of the Icefields is the Athabasca Glacier – spreading six kilometers towards the Icefields Parkway. Join an experienced guide and small group of adventurers on a once in a lifetime experience as you hike along the glacier – stand in awe of a place few people get to see firsthand.
Activity rating: Moderate
Overnight in Jasper.
Day 4 – In the Canadian Wilderness – Explore Jasper
Jasper's wide-open valleys are enticing to a variety of wildlife and are incredibly breathtaking. Spend the day exploring the jewel of the Rockies, Jasper.
You have 3 options to choose from today in Jasper:
• Option 1: Maligne Lake Tour with Cruise
Visit the beautiful natural wonder of Maligne Lake with your friendly local tour guide. Walk along Maligne Canyon, where the raging river has eroded the rock for thousands of years. Visit Medicine Lake and the tranquil blue-green waters of Maligne Lake, where you will take a boat cruise to scenic Spirit Island.
Activity rating: Easy
• Option 2: Sidecar Motorcycle Tour
Explore winding mountain roads and beautiful scenery on a thrilling sidecar motorcycle tour (for 1 or 2 passengers). Visit your choice of Athabasca Falls, Maligne Canyon and Medicine Lake or Mount Edith Cavell. Enjoy the sights as you cruise along past rivers, mountains and beautiful forests.
Activity rating: Easy
• Option 3: Privately Guided Nature Walk
See wildlife, rare alpine wildflowers, and magnificent valley views with one of the best, hand-picked mountain guides in Jasper. Enjoy a leisurely pace, and plenty of time for photos and discussion.
Activity rating: Moderate (approx 4 miles | 6.5km) – more challenging hikes are available on request.
Overnight in Jasper.
Day 5 – Onboard the Rocky Mountaineer – Jasper to Kamloops
Bright and early this morning, you will be transferred to the Rocky Mountaineer station in time for your journey into British Columbia. Enjoy the dramatic scenery of the Continental Divide and the river valleys of the Monashee and Cariboo mountains. Today's highlights include Mount Robson, the highest peak in the Canadian Rockies at 3,954 metres (12,972 feet), Pyramid Falls, the climb over Yellowhead Pass and the journey along the North Thompson River. This evening, your train arrives in the small town of Kamloops where you are free to enjoy a dinner on your own and a night in a standard hotel.
Overnight in Kamloops.
Day 6 – On the Rocky Mountaineer – Kamloops to Vancouver
Your journey travels west towards the Pacific Ocean and the coastal city of Vancouver. On today's journey you will again see dramatic changes in scenery, from the desert-like environment of the interior, through the winding river canyons and pristine forests, to the Coast and Cascade Mountains and the lush green fields of the Fraser River Valley. Highlights include the steep slopes and rock sheds along the Thompson River and the rushing waters of Hell's Gate in the Fraser Canyon. Your rail journey ends on arrival in Vancouver this evening.
Overnight in Vancouver.
Day 7 – Depart from Vancouver
If time allows, spend the morning strolling Vancouver's seawall or browsing the shops of Robson Street. Later, a driver will pick you up for your own private transfer to the airport, in time for your flight home.
Start Dates
2021 – Calgary Start Dates
July 4, 7, 11, 14, 18, 21, 25, 28
August 1, 4, 8, 11, 15, 18, 22, 25, 29
September 1, 5, 8, 12, 15, 19, 22, 26, 29
October 3
2021 – Vancouver Start Dates
July 1, 5, 8, 12, 15, 19, 22, 26, 29
August 2, 5, 9, 12, 16, 19, 23, 26, 30
September 2, 6, 9, 13, 16, 20, 23, 27, 30
October 4
Pricing
Prices of this trip vary by departure date, hotel class and the choice of activities. Request your quote to check availability or to book this trip.
Comfort Level Hotels SilverLeaf Train Service

From US $4,290 to US $5,290 per person

Our Comfort Level vacations include our favorite 3 star hotels, in great locations. Combined with unique sightseeing tours and personalized service, you'll receive exceptional value, a step above what you might expect anywhere else.

Superior Level Hotels SilverLeaf Train Service

From US $4,890 to US $6,040 per person

Our Superior Level provides amazing value for clients wanting something more upscale but not at the price of a top-end 5 star resort. Superior level hotels are some of our favorites because of the character and unique charm that you won't find at the average chain hotel. Unique tours and seamless transfers complete your itinerary.
Train Experience

Train Experience

Learn more about the onboard service and look inside the trains you will be traveling on during this trip.

The Rocky Mountaineer

The Rocky Mountaineer is a uniquely daylight-only train service to the Canadian Rockies, meaning you don't miss a minute of the view! Glass-domed cars, first-class service and exquisite food, make it world-famous.

Accommodations

Accommodations

Below are examples of the places you can stay on this trip. Please get in touch to discuss your options and to check availability.

Georgian Court Hotel

Rimrock Resort

The 4.5 star Rimrock Resort is built into the side of a mountain, when you enter the main lobby, you are actually on the 7th floor, and the views from the pamorama of windows over the Bow Valley are simply stunning. The hotel has an upscale yet understated feel, and the service is impeccable.

What's Included
Get your personalized trip plan organized and arranged for you
Get a trip that covers everything you want to see.
Know which places to go and which areas are best during certain times of the year.
Have someone local who knows the area to suggest trains, hotels, dining, sightseeing, etc.