Canadian Rockies Discovery Tour
starting fromUS $3,180per person
Choose your own activities and experiences to make the most of your trip.
Have all the details of your trip organized and arranged for you.
Explore Banff And Jasper National Parks
Discover the best of the Canadian Rockies National Parks on a week-long independent vacation. See Lake Louise, Banff and Jasper National Parks, whilst enjoying your choice of guided activities including an optional train journey past Mount Robson, the highest point in the Canadian Rockies. Everything is pre-planned, including transfers, the best Canadian Rockies hotels, and unique tours. Choose from sightseeing, wildlife viewing, train experiences, guided hikes, and more.
What you'll love about this trip
Stunning glaciers, emerald lakes, and forests of the Canadian Rockies

Amazing photographic opportunities

Great choice of activities catered to your interests

Discover Canada's National Parks
Common Questions
Is this an escorted tour?

Our vacations are not typically 'escorted.' We combine the best of both worlds – the reassurance of seamless connections, customer service support, and scheduled activities, plus the freedom of 'independent' travel. You are not tied into a specific group, or a rigid daily itinerary. This allows us to personalize your trip to suit your occasion, interests, and timeframe.

Can this trip be made shorter or longer?

Absolutely! We personalize all our clients' trips to fit their exact tastes and needs. You can add days at locations that you'd like to explore and spend more time at. Or leave out certain areas that don't interest you as much. Discuss your travel goals with our Canadian Insiders who make sure that your trip fits your needs and budget.

Can I customize this trip?

Your trip can be as rich as you'd like, and completely arranged around your interests and needs. The greatest benefit of working with us is our local knowledge. You can get your FREE personalized trip plan and decide what you'd like to see and do.

If your trip is a special occasion, we'll make sure it is unforgettable. Or if you're traveling with a group, we'll take care of the logistics so you can share time together stress-free.

Is it safe to drive in Canada?

New visitors will drive with ease because of the wide and well maintained roadways. We'll ensure your trip includes the most spectacular and safest routes throughout your trip.

Where am I staying on this trip?

You'll be staying at various local three to five star hotels or lodges along your route, some of which are very iconic properties with great locations, views and history. All our accommodations are carefully selected by our Canadian Insiders. We'll make sure that wherever you stay, you get the best value and comfort based on the seasonal availability.

How much does my trip cost?

All our trips are personalized to fit our clients' schedule and budget. The price of your trip generally depends on the travel season, train service, accommodations, and the sightseeing tours you take. Please request your personalized quote which will provide you with the detailed information you need.

What is included in the price?

Typically we include and pre-book all your main trip components so you don't have to worry about your connections, places to stay, or activities on your trip. You'll receive your detailed digital travel documents, and our Canadian Insiders remain at your disposal throughout your trip to answer any questions.

What are the best ways to travel around Canada?

Canada has a network of spectacular roadways, train routes, ferry crossings, and float planes. We can arrange for you to travel by car or to sit back and relax.

When is the best time to see wildlife?

That depends on the destination and type. As a rule, the main feeding and migration seasons are best for wildlife experiences. Tell us which animals interest you and we'll make your trip coincide with the best viewing season.

Will it be cold when I visit Canada in summer?

The temperature varies from mild to hot, depending on location. Canada's west coast, mountain regions, and Maritimes enjoy milder summer temperatures. They range on average from 59°F to 77°F (15°C – 25°C). The interior of British Columbia, prairies, Ontario and Quebec can reach temperatures around 95°F (35°C). Northern Canada will range between 50°F to 64°F (10°C – 18°C) in summer.
This Trip in Pictures
Discover the best of the Canadian Rockies on your Canadian Rocky Mountain vacation.
Arrive into the bustling mountain town of Banff and settle into your Canadian Rockies hotel.
Enjoy a great choice of handpicked tours in Banff National Park.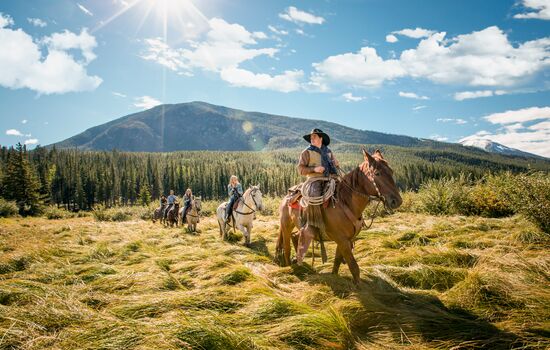 From enjoying a guided hike to learning how to be a cowboy, there is an option for everyone.
Between Banff and Jasper National Parks visit the famous Glacier Skywalk along the Icefields Parkway.
Arrive into the quaint town of Jasper deep in the heart of the Canadian Rockies.
Choose to bask in the serene atmosphere of the Rockies on a guided canoe tour in Jasper.
Or enjoy the freeing feeling of wind in your hair on a sidecar motorcycle tour.
With two full days in Jasper National Park there is plenty of time to explore the Canadian Rockies.
Recommended Itinerary
Think of this itinerary as just a starting point. Our experienced Canadian Insiders will create a personalized trip plan for you that matches your travel style, schedule and budget.
Day 1 – Arrive in Calgary and Transfer to Banff
Welcome to Calgary! Upon arrival, meet your transfer at the Calgary International Airport and travel through the Canadian Rocky Mountains to your Banff accommodation.
Welcome to Banff, the mountain playground of the world! The townsite of Banff, established in 1885, is the main commercial center in Banff National Park. In 1984, Banff was declared a UNESCO World Heritage Site, for the mountain landscapes containing peaks, glaciers, lakes, waterfalls, canyons and limestone caves as well as ancient fossil beds. Enjoy your afternoon and evening exploring the town.
Feature Dinner in Banff
We want to make sure your trip gets off to a great start! Enjoy a delicious meal in a great setting that ensures you make memories as your trip begins.
Overnight in Banff.
Day 2 – Discover Banff National Park
Head out today and discover the beauty the Canadian Rocky Mountain parks offer.
You have 3 options to choose from today:
Option 1:

Discover Grizzly Bears, Lakes and Waterfalls




This fantastic full day tour includes a visit to an incredible grizzly bear habitat, where resident and orphaned grizzly bear, Boo, lives and plays. What an amazing way to see the icon of the wilderness! Next you head to Kicking Horse Resort and ride the gondola to the top of Kicking Horse Mountain. Here you will dine at Canada's highest restaurant for a gourmet lunch (included). Stops also include the beautiful Emerald Lake, Takakkaw Falls and the spectacular Spiral Railway Tunnels in Yoho National Park.


Activity rating: Easy
Option 2: Banff E-Bike Tour
Cycle the Banff and Bow Valley area with ease on an E-Bike tour. This adventure will journey through the best of Banff and the surrounding area adjusting to the interests of the group and the weather.
Activity rating: Easy–Moderate
Option 3:

Cowboy C

ookout by Horseback




Enjoy an evening horseback ride along the base of Sulphur Mountain to a delicious BBQ. While your guides cook, try your hand at calf roping or a game of horseshoe. The return ride will take you along the banks of the Bow River. Lunch tours and the option to ride in a covered wagon is also available.


Activity rating: Easy
Overnight in Banff.
Day 3 – Exploring Banff
Fill your lungs with cool, fresh Rockies air and head out for a day of exploration.
You have 3 options to choose from today:
Option 1:

Lake Louise and Moraine Lake Tour




On this sightseeing bus tour visit the jewel of the Canadian Rockies, Lake Louise, and the world-renowned Moraine Lake (available seasonally). This journey gives you plenty of time to take photos and explore the spectacular shorelines and learn the history of the Canadian Rocky Mountains.


Activity rating: Easy
Option 2:

Guided Day Hike from Banff




Discover one of the classic hikes of the Banff area with a group and guide as you hike along a switchback trail dotted with lakes. Your professional driver and interpretive guide will pick you up and bring you a packed lunch for this moderate-difficulty hike.


Activity rating:

Moderate

–Challenging
Option 3: Evening Nature Tour
As the sun sets behind the craggy peaks, your guide will lead a paved road bus tour to the hotspots where you are most likely to see Rocky Mountain creatures and take in the stunning scenery in the park. You'll also learn about how the park protects these animals and their natural habitat from many threats to the ecosystem.
Activity rating: Easy
Overnight in Banff
Day 4 – The Icefields Parkway – Banff to Jasper
Start your full day tour this morning as you travel the Icefields Parkway with a small group and guide through the natural splendor of Banff and Jasper National Park. The breathtaking panorama of snow-capped peaks and endless mountain ridges opens to spectacular views of deep valleys stretching to a distant horizon. The tour stops at the Columbia Icefield where you will venture onto the massive Athabasca Glacier in a specially designed snow coach and then head up for an amazing view on the Glacier Skywalk. Picnic lunch included today.
Arrive in Jasper this evening for a relaxing stay in this small mountain town set in the largest park in the Canadian Rockies. Jasper offers visitors a more laid-back mountain experience – with equal options for adventure, discovery, and relaxation.
Overnight in Jasper.
Day 5 – Discover Jasper National Park
Spend the day exploring the jewel of the Canadian Rockies, Jasper.
You have 3 options to choose from today:
Option 1: Pyramid Lake Guided Evening Canoe Paddle
An evening on a mountain lake is breathtaking – fish breaking the surface of the still water, the call of a loon, a beaver gliding though the water, or perhaps a moose grazing on the shore. Paddle with a guide across the lake, in a large canoe. What a peaceful way to end your day, with the sun setting behind the surrounding mountains.
Activity rating: Moderate
Option 2: Jasper Walking Food Tour
Join a foodie guide and explore Jasper's eclectic (and delicious) food scene on an afternoon tasting tour. Sample Canadian classics, locally brewed beers, and globally inspired cuisine. Try four handpicked dishes, all paired with an alcoholic beverage.
Activity rating: Easy
Option 3: Best Hike of the Day
Enjoy a professionally guided hike in Jasper National Park. Hike at a leisurely pace to take in the incredible scenery. Depending on the day you may be strolling through wildflowers, gazing at the glaciers above, taking in the stunning colours of the mountain lakes and seeing wildlife! Enjoy a picnic lunch (bring your own) surrounded by spectacular views and crisp fresh mountain air.
Activity rating: Moderate
Option 4: Half Day Train and Sightseeing Tour
This tour begins with a ride on VIA Rail's Skeena train where you are whisked away down the tracks in comfort of your own seat with viewing window. Sit back and take in the magnificent scenery as you make your way down the Fraser River into beautiful British Columbia's Robson Valley. Upon arrival in Dunster you will be met by your guide for the return sightseeing adventure back to Jasper along the Yellowhead Highway which includes a stop at the famous Mt. Robson, the tallest mountain in the Rockies.
Activity rating: Easy
Overnight in Jasper.
Day 6 – Explore Jasper
Spend another day exploring Jasper National Park. Today you have admission and a shuttle included to the Jasper Skytram, the longest and highest aerial tramway in the Canadian Rockies.
You have 3 options to choose from today:
Option 1: Sidecar Motorcycle Tour
Head out for a thrilling tour in the sidecar of a Harley Davidson motorcycle. Visit your choice of Athabasca Falls, Maligne Canyon and Medicine Lake or Mount Edith Cavell. Enjoy the sights as you cruise along winding roads, rivers, and beautiful forests.
Activity rating: Easy
Option 2: Maligne Lake Tour with Cruise
Enjoy a tour to Maligne Canyon to see thundering waterfalls, unique rock formations, and mysterious disappearing Medicine Lake. Afterwards, enjoy a boat cruise on stunning Maligne Lake to the famous Spirit Island.
Activity rating: Easy
Option 3: Athabasca River Scenic Rafting Float
Take a guided scenic raft trip on the Athabasca River, navigating through small sets of rapids and stretches of calm waters. Sit back and let your guide do the rowing while you take in the magnificent scenery! Tour leaves from the Jasper train station in town.
Activity rating: Easy
Overnight in Jasper.
Day 7 – Transfer from Jasper to Calgary Airport
This afternoon, meet your transfer from Jasper to the Calgary Airport. Each turn reveals sparkling blue-green rivers and lakes, glaciers, mountain ranges and wildlife, so have your camera ready! Spend the evening at a Calgary Airport hotel.
Overnight at Calgary Airport hotel.
Insider tip: If you have flights departing Calgary in the later afternoon tomorrow, ask about moving your hotel from the Calgary Airport to downtown Calgary. Alternatively, ask about ending your trip in Edmonton rather than Calgary.
Day 8 – Departure from Calgary
Depart Calgary today on your flight home, with fond memories made of your Canadian Rocky Mountain vacation.
Start Dates
Calgary Start Dates – Daily Departures
May 31 to Oct 6, 2022
Pricing
Prices of this trip vary by departure date, hotel class and the choice of activities. Request your quote to check availability or to book this trip.
From US $3,180 to US $3,670 per person

Our Comfort Level vacations include our favorite 3 star hotels, in great locations. Combined with unique sightseeing tours and personalized service, you'll receive exceptional value, a step above what you might expect anywhere else.

From US $3,780 to US $4,210 per person

Our Superior Level provides amazing value for clients wanting something more upscale but not at the price of a top-end 5 star resort. Superior level hotels are some of our favorites because of the character and unique charm that you won't find at the average chain hotel. Unique tours and seamless transfers complete your itinerary.

From US $6,230 to US $6,910 per person

On our Deluxe Level vacation, it's likely you'll be staying at one of the iconic Canadian Fairmont Hotels in a room with a view. Built for the Canadian Pacific Railway in the early 20th century, these hotels are luxurious and full of history – ensuring an experience you'll never forget. Enjoy unique sightseeing experiences and the insider detail that only Fresh Tracks Canada can provide.
Accommodations

Accommodations

Below are examples of the places you can stay on this trip. Please get in touch to discuss your options and to check availability.

The Banff Caribou Lodge And Spa

Sawridge Inn

Jasper's Sawridge Inn is a favourite among travellers looking for understated luxury at affordable prices. Unwind in newly renovated rooms with marble bathrooms and take a dip in the large indoor pool.

Fairmont Banff Springs

Perched above the town of Banff and surrounded by lush forests and the rushing Bow River, the Banff Springs is a stately, beautiful hotel designed in the style of a Scottish Baronial Castle. From the expansive dining hall to the outdoor swimming pool to the fully equipped gym and the terrace with mountain views, staying at this hotel will make you feel like royalty. At the Banff Springs you can also enjoy many activities, including skiing, golf, spa treatments and much more.

What's Included
Get your personalized trip plan organized and arranged for you
Get a trip that covers everything you want to see.
Know which places to go and which areas are best during certain times of the year.
Have someone local who knows the area to suggest trains, hotels, dining, sightseeing, etc.